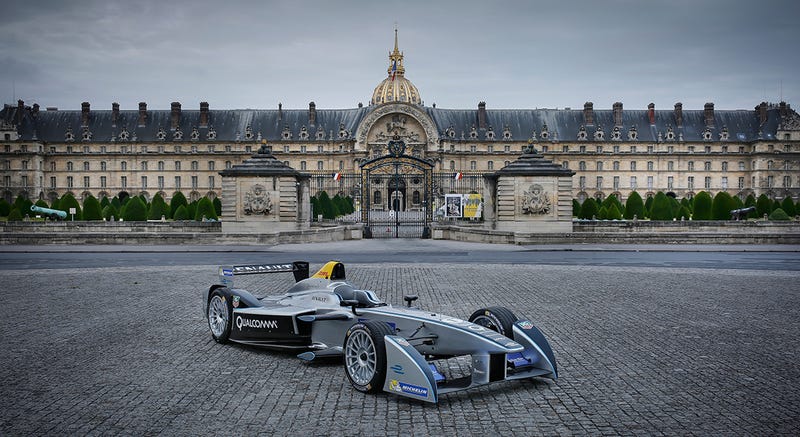 I was pretty excited when I heard that a race was going to take place in Paris, where I live. Ex-F1 drivers, cheap tickets, weird cars racing in the historic heart of one of the most beautiful cities in the world, who wouldn't be? But I can't go, because the city is being a dick.
You see, they only put up 10,000 tickets for sale. For comparison, last year the 24h of Le Mans did 300,000 entries.
When the tickets went up, I was in the middle of financial difficulties and couldn't afford one. Ten days after that, they were all (predictably) gone.

Who in their right minds puts up so few tickets for a event of this magnitude in the middle of Paris? Of course, access to the track itself will be very restricted, so unless you own a flat right next to it (probably in the most expansive streets in the whole of France), well, you're not going to see the race.

They did not even build any seating for the lucky few who did buy a ticket. Not any seating. And the accessible area, with a ticket, covers about half of the tiny, tiny track. I mean seriously, I can't imagine it would have been that hard to pump it up to 30,000 entries. There is a public for this. Monday, I went to see the magnificent cars of the Tour Auto, and although I haven't seen it advertised in mainstream media, and classic cars don't appeal to a very wide audience, the place was packed with enthusiasts all day long.

Way to fuck this up, Paris.
This was good news for me and many gear heads in France. We haven't had a Grand Prix for a decade. Formula E counts many famous French names: Renault is dominating the competition, lead by Prost, father and son, DS is a big name too, Michelin provides the tires and some of France's best drivers race in the ePrix (J-E Vergne, Loic Duval, or Nico Prost).

It was also a good opportunity for Paris to illustrate itself as progressive and modern. Electric cars racing around in the most beautiful city in the world cannot be bad publicity, can it?

But because Paris acting so cheap, it will turn out to be a very frustrating weekend, for me and I'm sure many others.
I guess I'll watch highlights on YouTube.

/rant