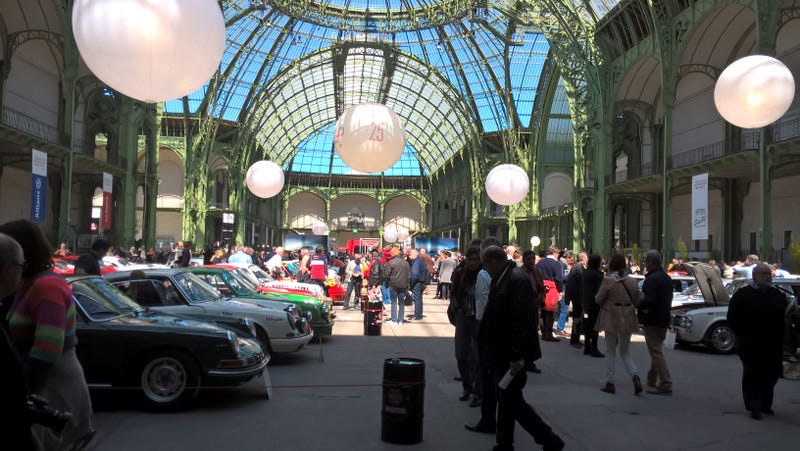 The French equivalent to the famous Mille Miglia, the Tour Auto was a gruelling endurance race that disappeared in 1989. Now, like the Italian race, it has been transformed into a regularity rally going through France in incredibly cool classic cars, from a Citroen DS racecar to the rarest of Ferraris. Today was inspection day, and all the teams were gearing up below the glass roof of the magnificent Grand Palais, bathed in sunlight and enthusiasts' melting brains. I spent a couple of hours there and came back with a phone full of automotive porn, so hold down to your classy hats, ladies and gentlemen, because we are going for one hell of a ride.

Many Cobras are attending the rally, along some other US cars that we'll get to later :
Dozens of Alfas will start the race. If I ever come across a large amount of money, I'm getting a TZ and I'm racing it all across Europe.
Before we get to the inevitable (but awesome) flock of Porsche, have these :
OK, so SOME Porsches. You can't go wrong with any of these it seems, be it 956, 911, or even some rarer 904s.
Now for a little entracte, have a couple of wider shots of the whole thing. I really think the Grand Palais is my favorite thing in Paris. I wish I had a better camera, though.
More Porsches!
I bet Puffalump is jealous right now!
Have a beautiful lightweight E-Type for your time:
Ferrari brought some delicacies of their own :
BMW were celebrating their 100th anniversary and were a sponsor of the event:
And now for some French things!
Alpines... Alpines everywhere...
Not that I'm complaining!

A "couple" of Lancias:
Two Aston DB2 together, that's a rare sight:
Some mean De Tomaso:
And now American readers, it's time for your reward. Enjoy the vintage freedom!
There were also some pre-freedom AC:
And to finish it all, some cars that weren't really parked with their next of kin:
That's it for today. Sadly I won't be able to see these on the road this week as they set off early tomorrow, but the magnificent setting of the Grand Palais kinda made up for it.
BONUS ROUND
The parking spots in front of the Grand Palais!