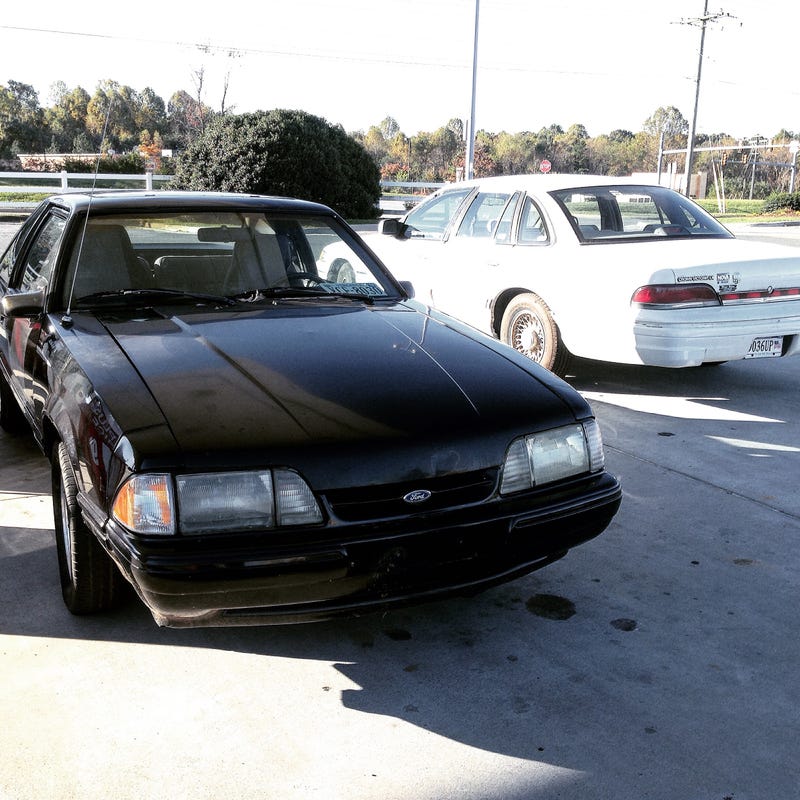 Not the Fox body, but 100 percent ethanol free Gas stations ! Oppo, it has been awhile since I last posted. I have a major update regarding my Aerovic that I bought in January.
Over Fall break I went home and a shop managed to fix the issue I had with the rear wheel and pass her for safety for under $200, I managed to safely drive from Northern Virginia to Lynchburg without any drama.
Since I've brought her to Lynchburg some friends and I have managed to fix the rear door that wouldn't open, which helps out since I drive the party bus and Nora Belle is regularly at maximum capacity. One of my friends apparently noticed my truck was out of alignment and fixed it while I went to the shop to fetch parts for his Fox body up there. I do have a recent crop of issues that have shown up.
I have now experienced Transmission shudder which was an issue for this gen of Vic... I'm debating if I should risk a flush or just do a simple drain and filter replacement. I've sourced one of my oil leaks to a loose oil filter, the rest aren't any concern a this point.
I recently had a problem regarding a puddle in my rear floor well and a cell phone. This is a new issue, I had to remove the carpet in my trunk due to me coming home and finding a pond back there,(pre-trunk adjustment), I'm going to drill holes in the rubber plugs at the site of where the water pools up usually, not sure where the water is leaking from and how it's only a concentrated area in my backseat floor well.
Other than that I've just kept up regular maintenance, recently did a brake flush, found a great gas station and for now she's doing fine.
I also had my first lesson in the art of Standard driving... Got a long way to go.