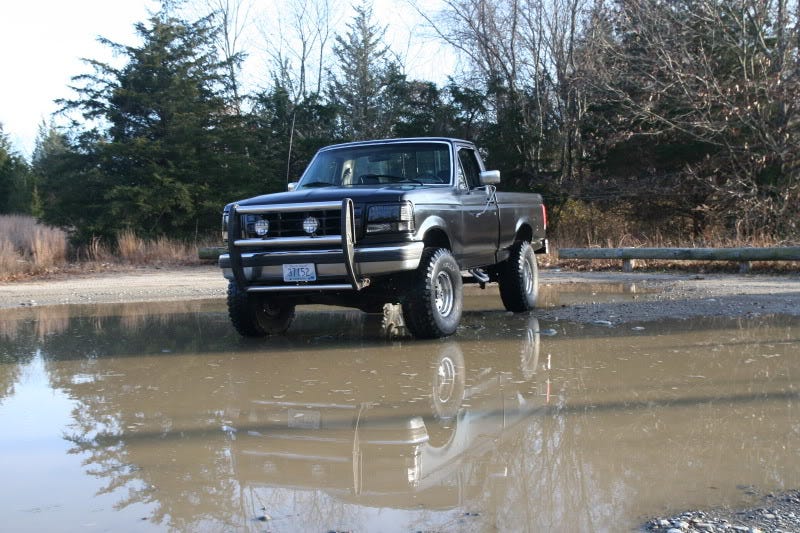 A little over a week ago I made a big change in my vehicular line up. I decided to trade in my fuel guzzling F350 and my non-smog-able Mustang as a two for one deal on a 2011 Audi S4.
My F350 had room enough for six and was relatively comfortable while the Mustang was 450 horsepower, raw, and unrefined. I decided on the S4 as it is somewhere in the middle of performance and comfort with room for five.
The S4 has been fun (I've already put well over 600 miles on it), it's surprisingly quick, and yet often feels as if I am driving on a cloud, but this is not a review of the S4 (which I may write another time). This is a story about an old adage and an old truck.
I bought my very own first truck about 4 years ago off Craigslist, and paid ultimately more than I should have for it. A'96 F150 with an inline 6 and a 4 speed manual. The previous owner had thrown a four inch lift, 35 inch tires, and a set of manual locking hubs.
Here is a terrible picture of the beast the night I brought it home. In total, it was five different colors; green, red, white, flat black, and rust. It also had some damage on the fender from hitting a deer, neither headlights worked, and the door hinges were loose, so you had to slam it every time to get it to shut.
I spent some time welding in some new panels from the junk yard, and working out the body. It was meant to be a beater truck so it didn't have to be perfect. Then I took it into the garage and sprayed it with the cheapest paint I could find (actual paint, not rattle cans).
I drove the crap out of the truck. I took it to a mud bog literally 12 hours after finishing the paint, and got her stuck in 3 feet of wet muck, and in two wheel drive, and wouldn't you know it, she dug herself out.
The truck was rough, the only good thing about it was that the inside didn't smell too bad. The wheels were off balance, the alignment was off, big bumps made the fenders rub the wheels, wires randomly came apart. It was awesome. One time, the rear pinion gear split into 8 major pieces while I was driving and locked up the rear axle so hard that the back end lifted about a foot off the ground.
After about 6 months I got a job offer on the west coast and had to move, I knew she wouldn't make the trip so I sold her to a farmer and bought myself an 07 F350. It was a nice truck, but it wasn't the same.
Now I have been truck-less for the first time many years. The plan all along was to buy the Audi and find a cheap beater truck for when I need to use a truck for a truck. But I keep going back to that old truck that ran rough and smelled kinda funny.
I've driven Porsches and Ferraris around race tracks, and that's fun and all, but nothing was quite as fun as that old beater truck.
I have spent the better part of the past few days looking for an old 150 I6 manual 4x4, but they are either beat to shit, over priced, or too far away, and that makes me sad. One day I will find my beater truck again, and on that day there will be much rejoice.