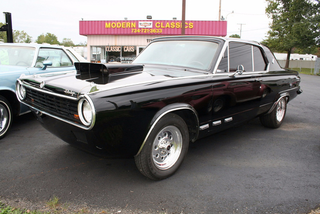 I think it looks good.
The problem is any kind of hit to the front would be expensive and crippling. I also think it wouldn't look good unless I actually painted it.
Here's my Dart for those who have forgotten what it looks like:
I need to bondo in the holes where the trim was, straighten out the passenger fender and fix the small rust hole in the trunk. I should also probably treat the underside for rust and such. New wheels are on the agenda, as well as all the suspension bushings. The leafs are also kinda rusty.
Engine wise I want to keep the slant 6. Eventually rebuild it and when I can get a bigger rear end that's wide enough twin carb and turbo it.
Interior wise I think reupholstering the front bench would be cool. Buckets would ruin it. I want to get some speakers in the rear deck and maybe somewhere under the dash. I'd like to put a newer head unit in the glove box.