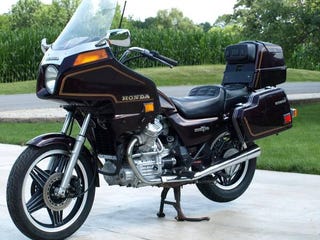 I used to have same year & model as this, but sold it around '09. I have been keeping an eye out for another one. I am working out of town and this is an hour north of where I am at.
Pros:
Looks clean

28k miles

Passenger seat / trunk bracket
Both hard bags
Radio set up(although non working, would replace anyway)
Only a 500
Windshield
Cons:
1982
Brown / Burgundy
Could use money for other things.

2.5 driving to look at it, possible 2.5 hours to pick it up.
Only a 500
Opinions???