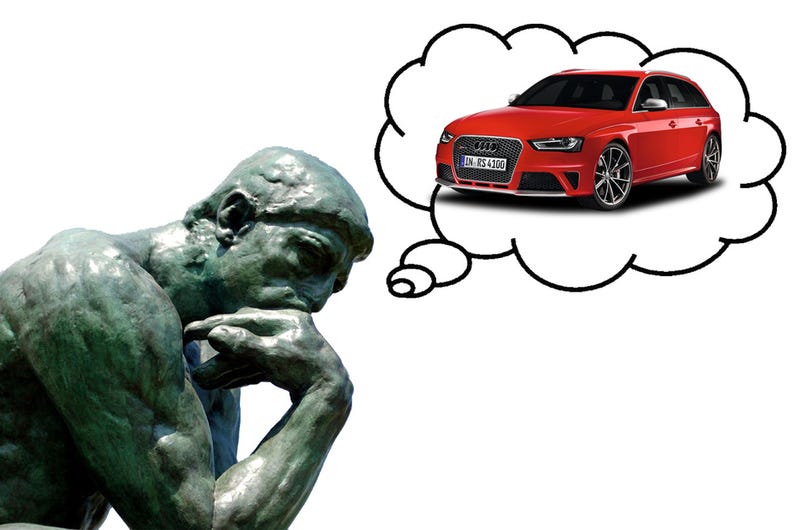 (Welcome to "Thinking Too Deeply About Cars." This is a column where I over analyze my thoughts about the cars I have owned and possibly get a little too sentimental. I encourage you to do the same or call me a total nut-job in the comments).
I have this problem where no matter how nice of a car I am driving I always want it to have something more. This all started with my first car, a 91' Chevy Lumina Coupe. It was a fine first car for a 17yr old, cheap to buy (I got it from my uncle for $2000 it only had 28k miles), cheap to fix, enough power for safe highway merging but not too much to get a novice driver into trouble, and pretty comfortable for chauffeuring friends around (two rows of bench seats, yay 90's GM!).
Despite all these fine features (I even had a kickin' stereo!) it wasn't enough. A college friend who seemed to go through cars faster than Ramen noodles (seriously, he owned 6 different cars within 2 years ) ended up with a 240sx fastback 5-speed and thought it would be a good idea to teach me to drive stick. After some rough launches and a few stalls, I got the hang of it and was totally addicted. But my Chevy was an automatic (column shifted) and I had no money to get a different car. So what did I do? I did what any one of year college educated 19 yr old would do, I improvised! I wanted the sensation of shifting gears so badly I ended up taking a used plastic Coke bottle and jamming it in between the front bench seats. For two years I kicked the floor with my left foot and rolled through the gears in my Coke "shifter." And then my opportunity came….
During my senior year in college, my grandfather passed and left me a little money. I had 10 grand to get a fun car with 3 pedals. I already told the story about how State Farm crushed my dreams of a Camaro SS, so my focus shifted to the booming import scene of the early 2000's and found a great '95 Honda Prelude Si. I loved that Prelude...that was until I started reading all those mags that convinced you through brainwashing that you MUST MODIFY YOUR CAR. I just could not have an un-modified Honda in 2002...it was against the gear-head rules at the time! I began to add bits here and there: intake, headers, exhaust, Altezza tail-lights (don't judge me everyone was doing it then), and suspension. Though If I had known then what I know now I would have passed on the coilovers, sure the Honda handled like it was on rails but also bucked like wild bronco over anything that resembled uneven pavement. As enjoyable as the Honda was, I started to long for something more European (damn brainwashing car mags again); I wanted a hatchback for more space and something a bit more fun and quirky.
After seeing the Italian Job remake and reading how much fun the new Mini Coopers were, I headed on over to my MINI dealer for a test drive. I had a steady job with some decent income (decent because I was still living with my parents) so it was time for a new car. At the time the dealers couldn't keep a Cooper S on the lot for more than a week or two, so if you wanted one it had to be ordered. I placed my order for a Cooper S in Indie blue with white racing stripes and four months later, it was mine. The Cooper was a hoot, suggested exit ramp speeds where like a personal challenge. That little car could hold a ton of stuff with the back-seats down and even managed 35mpg hwy. And then the honeymoon ended...the spunky little ride started to feel slow (it wasn't really, that was all in my head) I needed something more….MOAR POWER. I also was coming to terms with the fact that I was going to be real adult soon and would have to get a "grown-up" car. Again, the car gods smiled upon me and fate intervened, the Mini ended up getting totaled in a flood (another story for another time). The insurance company wrote me a check for $23,000 keep in mind the when I bought the car new 3 years earlier the MSRP was $23,500. Some of the money went to pay off the rest of the loan, some went towards a down-payment on a house, which left me with again 10 grand to put towards another ride.
By this time I started to become obsessed with sport-wagons (boy, those damn car-mags will really do a number on you). I found a lightly used '05 Subaru Legacy GT wagon 5-speed a few hours away. I wanted MOAR POWER….and I got MOAR POWER!!!!! and MOAR CARGO!!!! I'm not too handy but I really enjoyed the Home Depot runs as a new homeowner, loading up that wagon along side pickup trucks knowing that I had "sports-car" capability as well. The Subie was a blast but….life wasn't the same on those exit ramps. Sure it could handle the twisties pretty well, but not the same as the Mini and the Prelude. What did I expect? It was much larger and much heavier. When the Subie started giving me some transmission problems and I was encouraged by my local mechanic to "trade it for something with a warranty" I went shopping….
My budget was tight so it was either buy something used or lease something new. I had heard about how the '10 Mazda3 was "tossible" and had "great feedback" so I gave it a go. The local Mazda dealer had one 6-speed on the lot and offered me a thousand dollars over KBB for my Subaru so I snatched that black Mazda up and was out of there before they had a chance to change their mind. The 3 filled my need for an exit-ramp champion, but as time went on I felt I was missing something….you guessed it MOAR POWER and MOAR CARGO!
Of course if I ever do get a hold of that A4 Avant that I constantly obsess over, I probably will love it for a bit, and then want something smaller and sharper. Maybe I can never be satisfied, maybe I need to learn to appreciate what I have (Hey that sounds like a great topic for another installment! ).
(Thanks to MILKY for the lead-pic! MINI photo via the "Italian Job," The LGT pictured is actually not mine but OCDSubies, mine looked exactly the same. The Honda and Mazda pics are from random dealers via Google)