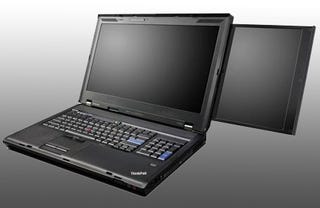 The famous "butterfly" extending keyboard.
The last one is an X61t convertible tablet. It is beyond a doubt my favorite piece of technology that I've ever owned.
I'll always love ThinkPads, even though I've switched to Macs. I remember once having a failed battery and calling their support number at 3 AM on a Sunday morning and speaking to a real, live person in Kentucky who shipped out a replacement battery, no questions asked, that arrived that Monday. I remember having discussions about design on their blogs and forums with their designers.
I don't hate post-Lenovo ThinkPads, but, man, IBM-era ThinkPads really were something special.