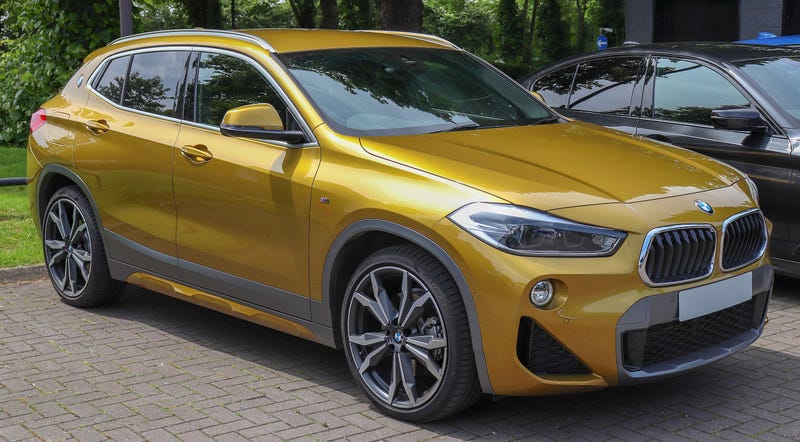 That's the base price on a BMW X2, a vehicle I didn't even know existed until today. And that is my nephew's first car, a kid that doesn't even have his license yet. He probably didn't get the base model, either. When they said that he got a BMW as his first car, I thought my folks were about to tell me that it was something like an E46 325i, but no, they got him a fucking brand-new X2.
My first car was a hand-me-down 1977 VW Dasher wagon; mom bought it new and drove it for years before buying a used Vanagon, and then dad drove it for several more years because they used his Mustang II as the trade-in on the Vanagon. That car, and the used Rabbit GTI I bought a few years later, didn't suffer any accidents that were my fault; drunk idiot backed into me in a parking lot, but I don't think I can be blamed for that. Since there weren't any cars to pass down to my sister when she got her license she had her choice of car, as long as the value was close to that of my Dasher, and bought an early Accord hatchback with 90,000 miles on the clock. Her next car was a used '86 Jetta, refrigerator white. Hell, my first new car was my current DD, the base-model 2012 Mazda5 that I love and cherish and will never part with.
My niece and nephew have absolutely no concept of money. He gets a new X2, and she has seen Hamilton in at least 10 different cities. I know it's a good show, but really? I'd almost be willing to bet that my old slot-car set, which I saved for my nephew, went straight from the trunk to the garbage can as soon as they got home. The three of us had such a fun time playing with it at my folks house that Thanksgiving, but I don't think my sister could tolerate having something used in her house, regardless of what the kids may want. Yeah, you won't be catching her shopping at Goodwill...
And the fate of the X2? Nephew didn't have the right-of-way, made an illegal left turn, ON THE WAY HOME FROM THE DEALER, and wrecked it, with my sister sitting right next to him in the passenger seat. KIDS DO STUPID THINGS. THIS IS WHY YOU BUY THEM A BEATER AS THEIR FIRST CAR.
I can't even...