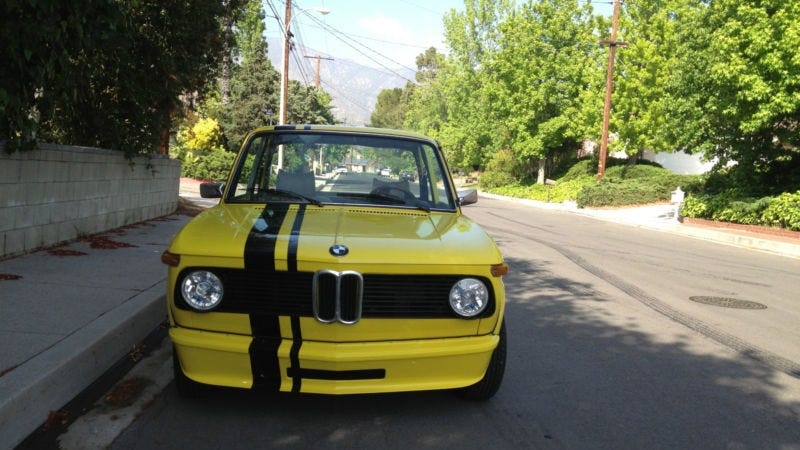 The oft-heard advice given by motorheads is never buy another man's project...but these are the same motorheads who constantly buy other folks' projects - meaning the advice is actually a self serving attempt to keep competition and bidding wars at bay, or so I tell myself when I see something like this BMW New Class.
Find this 1976 BMW 2002 project currently bidding on ebay for $1,225 reserve-not-met with 1 day to go, located in Tujunga, CA. CRZRSN pointed out in his oppo post yesterday that the offset stripes and yellow paint job are a good match for Torchinsky's beetle.
When you buy any used car you instantly inherit all of the old problems and issues that go with the car. However, when buying a running/driving/registered car you can likely diagnose and understand most of those problems in the course of a good 1-hour test drive and maybe a compression check...not so much when you pick up an almost finished project. Assume everything the seller did recently needs to be redone in some fashion and you'll be much happier.
The interior needs some help on this New Class -specifically it needs to be torched and rebuilt from the ground up. However, most of the pieces should be available from reproduction or new old stock sources for a reasonable amount of cash. A good project car like this is the ultimate transformer because it will transform your wallet into something lighter.
This 2002 will need some of your time/money/effort before it can buzz around town, but is the asking price low enough to risk getting stung? See another cheap classic? email us here: tips@dailyturismo.com
Originally posted as 5k: BumbleBMW: 1976 BMW 2002 on Daily Turismo.