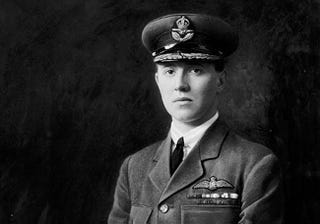 On March 12, 1930, William George "Billy" Barker died at age 35. Barker was a WWI fighter ace and the most decorated serviceman in the history of Canada, as well as in the history of the British Empire and Commonwealth of Nations. His actions in the Great War earned him the Victoria Cross, the Distinguished Service Order and Bar, the Military Cross and two Bars, two Italian Silver Medals for Military Valor, and the French Croix de guerre.
Above: Major William G. Barker in England, 1918 (Library and Archives Canada)
There is an old saying in the world of fighter pilots: "There are old fighter pilots, and there are bold fighter pilots. But there are no old, bold fighter pilots." William Barker was the epitome of this adage. He wasn't a highly skilled pilot (he made his first solo flight after only 55 minutes of dual instruction), and he suffered several incidents during his piloting career. He made up for that apparent lack of skill, though, with aggressiveness, audacity, and highly accurate marksmanship (Barker had been an infantry machine gunner before joining the air service). Between September 1917 and September 1918, he flew 404 operational hours, shooting down 46 aircraft and balloons. His personal Sopwith Camel became the most successful fighter plane in the history of the RAF.
Barker with his Sopwith Camel, his favorite airplane
Barker was awarded the Victoria Cross (roughly equivalent to the Congressional Medal of Honor) for his actions on Sunday, October 27, 1918. Returning to base and flying his Sopwith Snipe fighter, he crossed enemy lines near the Forêt de Mormal at 21,000 feet. After downing one enemy plane, he was attacked by a formation of Fokker D.VIIs. By his own admission, he was being careless and failed to see the attackers. As the battle spiraled toward the ground, Barker found himself fighting 15 or more enemy planes. He was wounded three times in the legs, his left elbow was blown off, but he still managed to control his fighter and dispatch three more enemy planes. Wounded and bleeding seriously, Barker crash landed behind Allied lines and was taken to a field dressing station by members of an RAF Kite Balloon Section. The fuselage of his Snipe was recovered and now resides at the Canadian War Museum in Ottawa.
Major W.A. Bishop and Lt. Col. W.G. Barker in front of a captured Fokker D.VII, 1919 (Library and Archives Canada)
After the war, Barker entered into an airplane business venture with fellow fighter ace and Victoria Cross recipient Billy Bishop. After three years, he returned to service with the Royal Canadian Air Force until 1926. Upon leaving the RCAF, Barker became the first president of the Toronto Maple Leafs. Barker continued to struggle with both his war wounds and alcoholism. He died in 1930 after losing control of his Fairchild KR-21 biplane during a demonstration flight. Barker was just 35. Bold, but certainly not old.
You can read a very detailed account of Barker's exploits here.