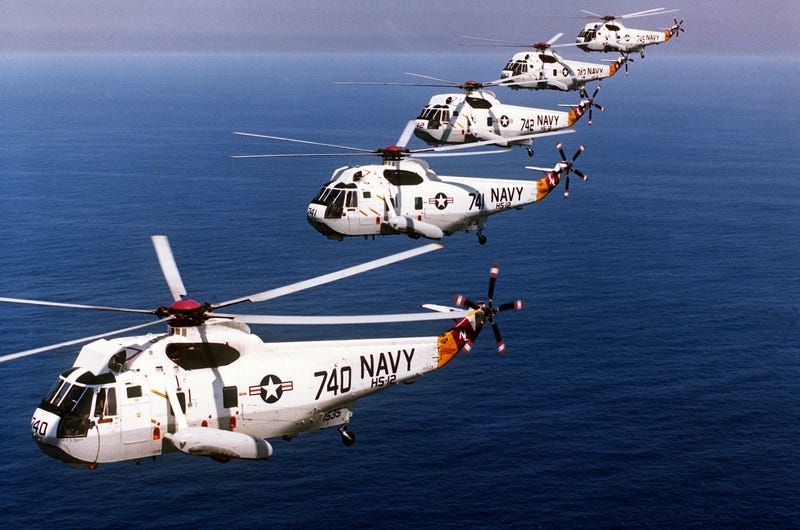 March 11, 1959 marks the first flight of the Sikorsky SH-3 Sea King. The SH-3 was a true workhorse for the US Navy, Marine Corps, Air Force and Coast Guard, serving in many roles for 50 years.
The Sea King was developed for the Navy by Sikorsky, and set the standard for future helicopter designs. It's twin-turboshaft powerplant was the first of its kind, and afforded the Sea King with unprecedented payload capacity and speed, setting records for its day. The double-engine configuration also provided added security for the crew, as the Sea King could be operated reliably on only one engine. A watertight hull and inflatable sponsons allowed the Sea King to land on the surface of the water, making the SH-3 the world's first amphibious helicopter.
SH-3 Sea King from Helicopter Support Squadron One One (HC-11) prepares to land aboard the guided missile destoryer USS Milius. (US Navy)
Introduced in 1961, the Sea King served the US Navy primarily in the anti-submarine warfare (ASW) role, tracking enemy submarines with advanced radar and attacking with torpedoes or depth charges. It also served as an all-around cargo and personnel helicopter. In the Vietnam War, armored Sea Kings, armed with machine guns, were used to rescue downed pilots. During the manned space program, the Sea King was the primary recovery aircraft for the astronauts and the space capsules. And the US Marine HMX-1 Squadron employs the Sea King as the primary helicopter to transport the President of the United States.
US Navy Sea King recovering the crew of Apollo 11, July 24, 1969

By 1990, the Sea King was replaced in the ASW role by the SH-60F Seahawk, with the remaining Sea Kings configured for logistical support and search and rescue. The Sea King was ceremonially retired by the Navy in 2006, though at the time the Navy did not plan to phase them out entirely until 2009. The Marine Corps and their fleet of SH-3s will continue to support the White House until a replacement for Marine One is found under the VXX program. The Sea King has also been built under license by Agusta in Italy, Mitsubishi in Japan, and by Westland in the United Kingdom, and was produced in a civilian version called the S-61 which remains in production.
US Marine Corps VH-3D "Marine One" departs from the south lawn of the White House (George W. Bush Library)