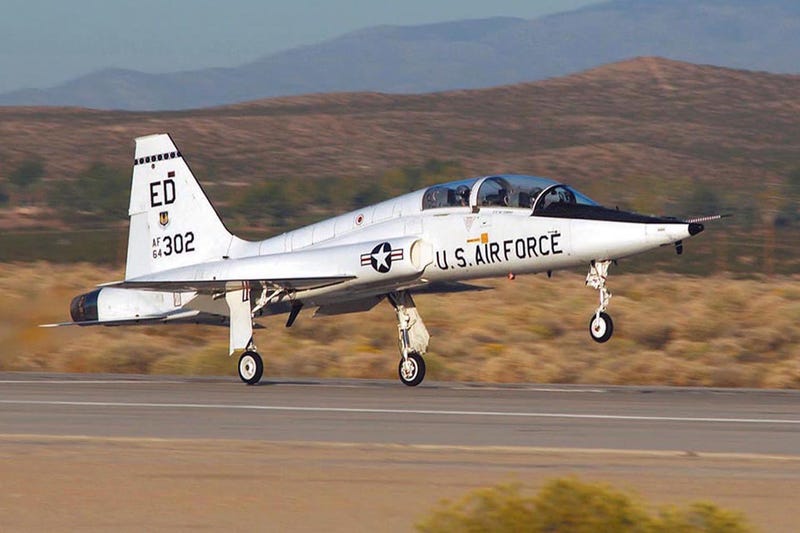 The Northrop T-38 Talon took its maiden flight on March 17, 1961. Designed as a lightweight, simple fighter compared to larger and heavier—and more expensive—aircraft of the day, the T-38 would become one of the longest serving aircraft in the US Air Force inventory.
The T-38 began as a Northrop-funded project in 1955, built around a lightweight, high velocity output engine designed by General Electric which provided 2,500 pounds of thrust. The engine was originally intended to be used in missiles, but Northrop could see its potential for use in a small fighter. When the Navy failed to show an interest in small fighters operating from escort carriers, Northrop decided to develop the T-38 when the Air Force announced its intention to replace its aging T-33 trainers. Production of the T-38 continued until 1972, after a total of 1,187 aircraft had been built. The T-38 has been flown by as many as 50,000 military pilot trainees, and the US Air Force is still one of the few services that operates a dedicated supersonic trainer.
A U.S. Air Force Northrop T-38A-65-NO Talon aircraft from 560th Flying Training Squadron, Randolph AFB, TX
While it is relatively common for a training version of an airplane to derive from a fighter version, this is not the case with the T-38 and the F-5. The Freedom Fighter was actually an outgrowth of the Talon, as Northrop and the Air Force saw its potential as both a lightweight fighting platform and an export fighter. The F-5 won the International Fighter Aircraft competition in 1970, a competition designed to provide low-cost fighters to America's allies.
The T-38 served the US Air Force Thunderbirds demonstration squadron from 1974-1982
The Talon continues to be the workhorse of the US Air Force Air Education and Training Command (AETC), preparing pilots for the F-15C Eagle and F-15E Strike Eagle, the F-16 Fighting Falcon, B-52 Stratofortress, B-1B Lancer, B-2 Spirit, A-10 Thunderbolt, F-22 Raptor and F-35 Lightning II. NASA operates a fleet thirty-two Talons for astronaut training and as a chase plane. While proposals for a replacement have been fielded, the Air Force seems in no hurry to replace the T-38. Nothrop has produced a replacement wing that will keep the Talon in the air until at least 2020. It will be very difficult to replace such a winner, particularly one that is as capable, or cheap, to operate.
NASA T-38 mission support aircraft flown by NASA research pilots Troy Asher and Mark Pestana during a recent pilot proficiency flight. (Tom Bunce via NASA)