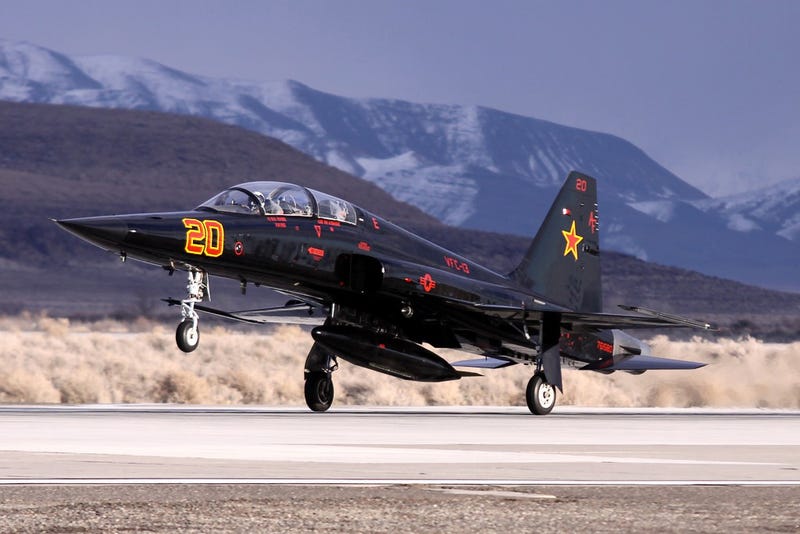 March 3, 1969 marks the opening of the US Navy's Fighter Weapons School at Miramar Naval Air Station, which later became known as Topgun. Now called the Navy Strike Fighter Tactics Instructor program and based at NAS Fallon, Nevada, Topgun teaches dogfighting and strike tactics to select Naval Aviators, who then return to their own units to pass along what they have learned.
Top: A T-38 Talon of VFC-13 (photo by Tony Lovelock via The Aviationist)
In 1968, practical combat experience in Vietnam led the Air Force and the Navy to come to very different conclusions on how to fix the problem of air-to-air fighter losses. While the Air Force saw it as a systems problem and upgraded their radars and missiles, the Navy saw it as a training issue, and sought to improve the air combat maneuvering skills of its pilots. As a result of the Ault Report, published in May of that year, the Navy created an "Advanced Fighter Weapons School" to spread knowledge and expertise in air combat throughout the fleet.
The Fighter Weapons School opened for business on March 3, 1969, and used many F-8 Crusader pilots as instructors (the Crusader was the last American fighter designed with guns as its primary weapon, and was nicknamed "The Last of the Gunfighters"). The goal was to teach aerial dogfighting tactics through the use of Dissimilar Air Combat Training. Rather than practice against other pilots in the same aircraft, DACT would pit the pilots against smaller, more maneuverable fighters, such as the A-4 Skyhawk or T-38 Talon to simulate the Russian MiG-17 or MiG-21 the pilots would most likely see in combat at that time.
All that training paid off. The Navy's kill ratio in Vietnam, which started at approximately 2:1, increased to 12:1 by 1972.
A TA-4 Skyhawk from the Redtails of Fleet Composite Squadron Eight (VC-8)
As the fleet transitioned from the F-4 Phantom II and A-4 Skyhawk to the F-14 Tomcat and then the F/A-18 Hornet, instructors kept their A-4s and F-5s, but also added the F-16 Fighting Falcon and the F/A-18 Hornet to their arsenal. As the Cold War ended, and Naval fighter pilots found themselves dropping more bombs and firing more missiles, the Navy amended the Topgun syllabus to reflect that changing role.
Two U.S. Navy/U.S. Marine Corps F-16N Vipers and two Douglas A-4F Skyhawks of the United States Navy Fighter Weapons School