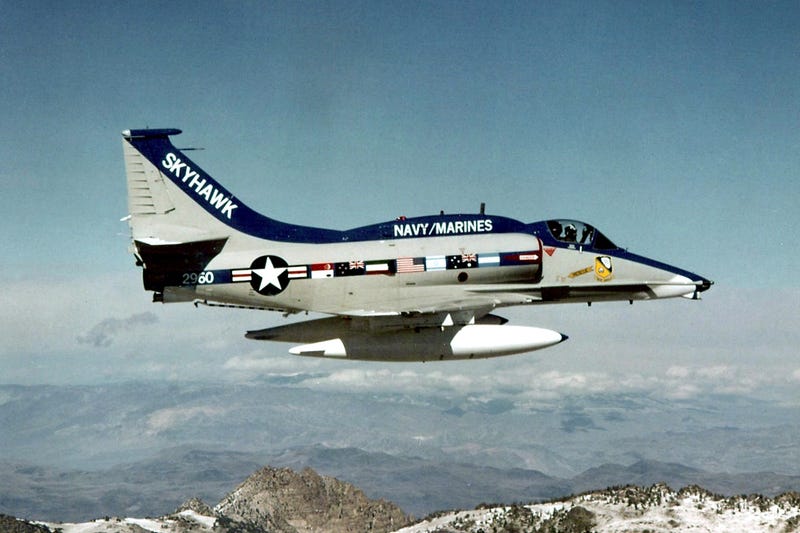 On February 26, 1979, production ended on the McDonnell Douglas A-4 Skyhawk after 26 years. First flown in 1954, a total of 2,690 copies of the small, nimble, and versatile fighter were produced. The last A-4, an A-4M, was delivered to Marine squadron VMA-331. The fighter was originally envisioned by the Douglas Aircraft Corporation as a small, carrier-based airplane capable of delivering nuclear weapons. So small, in fact, that its wings did not need to be folded for carrier storage. It was designed by Ed Heinemann, and became known as "Heinemann's Hot Rod" by pilots who were impressed with its speed and performance. Pilots also nicknamed it the "Bantam Bomber," "Mighty Mite" and "Scooter." First powered by a Wright J65 turbojet, then a Pratt & Whitney J52 beginning with the A-4E, the diminutive Skyhawk had a top speed of 670 mph.
Top: The final production Skyhawk, displaying the flags of the countries that operated the A-4. Above: A Douglas A4D-2 Skyhawk of attack squadron VA-81 Crusaders prepares to launch from the USS Forrestal in 1962.
The A-4 first saw combat with the US Navy during the Vietnam War, launching air raids on North Vietnam on August 4, 1964. Skyhawks also found distinction with the Israeli Air Force in the Yom Kippur War and the Argentine Air Force in the Falklands War. Other international customers included Kuwait, Australia, New Zealand, Indonesia, Malaysia, and Brazil.
Top: A-4N Skyhawk of the Israeli Air Force Above: A-4AR "Fightinghawk of the Argentina Air Force
After the Skyhawk was retired from fleet duty, it found a new lease on life as an adversary aircraft at the Navy's Fighter Weapons School ("Top Gun"). The A-4 was chosen as the bandit aircraft because of its small size, maneuverability and smokeless trail, similar to a MiG-17. It served in this aggressor role until 1999.
A TA-4 Skyhawk from the Redtails of Fleet Composite Squadron Eight (VC-8)
In 1974, the Skyhawk was chosen as the platform for the Navy's Blue Angels demonstration squadron when they transitioned from the F-4 Phantom II, a plane that was much larger and more costly to operate. The smaller and lighter aircraft, with a tighter turning radius, allowed for a more dynamic flight demonstration. The Blues flew the Skyhawk until 1986.
Sources:
A-4 Skyhawk Association
The Blue Angels
Wikipedia
Boeing