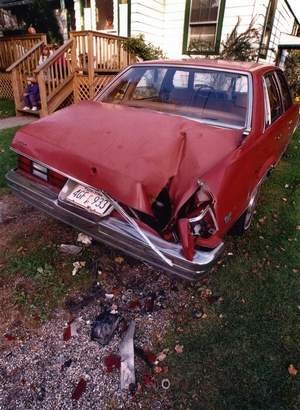 On this day in 1992, 18-year-old Michelle Knapp is watching television in her parents' living room in Peekskill, New York when she hears a thunderous crash in the driveway. Alarmed, Knapp ran outside to investigate. What she found was startling, to say the least: a sizeable hole in the rear end of her car, an orange 1980 Chevy Malibu; a matching hole in the gravel driveway underneath the car; and in the hole, the culprit: what looked like an ordinary, bowling-ball–sized rock. It was extremely heavy for its size (it weighed about 28 pounds), shaped like a football and warm to the touch; also, it smelled vaguely of rotten eggs. The next day, a curator from the American Museum of Natural History in New York City confirmed that the object was a genuine meteorite.
I do a "This day in history" on my whiteboard at work every day (good conversation starter...read more here) and found this to be a combination of interesting and bad luck. I mean, out of the entire world and all the places, a meteorite strikes your car.
She was the first to see the meteorite, it seems, but EVERYONE needed a picture with it!
At this point I have no idea who is who but whatever!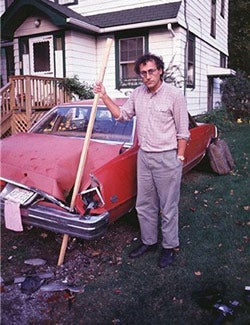 Last image is just a 1980 Malibu for comparison.
Update: It seems the car was sold to a museum and it has been on display as far away as Japan. The meteorite was sold to independent fossil collectors then broken down and sold to museums around the world.