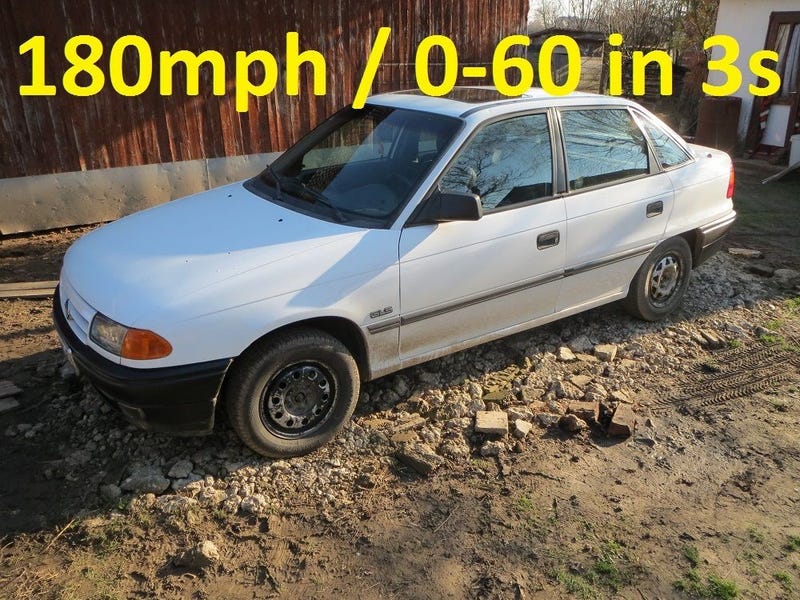 "1992 Opel Astra 1992 Opel Astra
The White Bucket Goes 180mph With 1.7 Diesel Engine but one time only jep jep!
-My Astra is for sale or as I like to call it "white bucket".

-Top speed is around 180mph and I didn't tested that but it is probably possible,
only when you toss it from plain at 30000ft and the best off all you don't need
to spent money on parachute.

-What can I say about the car it drove bunch off nice and less nice girls,
with this car I found my wife.

-Off course don't ask me if I drove a cow, fridge, windows, and most loved off
all a half of liker store almost or just a few cases of beer, then went home
with the best man to empty that and go in the shop for another case of beer.

-Of course, the oil spends indeed, but it can not spend as much as I can pour.

-When temperature is below zero the engine runs on 3 cylinders or maybe just
2 but only for first minute or so, other than that it runs without problems and
the best is to drove it down the hill, only than it goes like a rocket and if Cd
plays this song(The Automatic - What's That Coming Over The Hill) you fell invincible.

-Every morning started cold, inside I drank and sometimes sleep too after hard night.
-You just wondering if I using that case of schnapps that's in the trunk as a fuel
additive and how well it worked to assist starting the motor on cold mornings,
well it's useless for starting a car, but it helps start me on cold morning.

-Excellent turns on the hand brake and go through the park to avoid the police.
Not recommended that you drive in Zagreb, as the police will always stop you.

-It also wont's to make you cry every time when you get bypassed by a nice
new luxury car like BMW, Mercedes, Porsche and so on, you just can't help yourself.

-Car has not been washed since last winter neither is garaged and it doesn't make
sense to wash it when in two weeks again will be dirty, better drink a beer for that
money or buy a lottery ticket.

-Moreover, If price is higher then $2200, you will get a personal driver me, too driving
you in Croatia or across Europe to take adventure with local homemade cuisine and
visiting beautiful places, but I do recommend you to rent a car, also you are welcome
too be my guest for 2 weeks.

-Special air delivery available but no complaint will be accepted.

-I will be glad if you have a a good laugh reading this so why not bid. :))
Don't wont to bid that's OK you can help also by spread the word around ;)

-I'm not an alcoholic, just wont to raise founds to take my better half on our
4th anniversary to Spa for a weekend as she deserves it, as love is the only thing
that still matter.

King Regards to all by Mario"
Located in "Senkovec, default, Croatia, Republic of"
It has a 1.7 L Diesel with 235,500 miles and is currently priced at $202.50