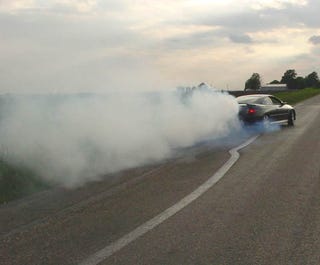 Seeing Dale Franks posting about needing a new motor in his GTO, got me thinking about my old GTO. It was a 2004 model, and I purchased it in early 2006 with 5200 miles on it. It was a certified car with a warranty, and that was a damn good thing. I only owned it for three and a half months (managed to put 6000 mile on it), and in that short time it spent 31 days total in the shop for various maladies.
Hard as it may be to believe, given the lead shot, I didn't hoon it too badly. I really loved that car, and I couldn't stand to abuse it. The GTO actually mellowed me as a driver. I found that momentum was so easy to regain, that I didn't mind loosing it. It also broke me of using a radar detector, because I couldn't bear to velcro one to that beautiful dashboard.
The last month I owned it, a pattern developed. Every week, something would break over the weekend, I'd take it in on Monday, get it back Thursday (it always had to wait for parts), and then it would break again on the weekend. The final straw was when it left me stranded at a Jeep dealership in East Peoria on a Monday afternoon (I was already considering dumping the GTO, but didn't like what I found at Jeep). It fired up, then it died. It fired up again, then died again, then flashed "Fuel Gauge Error. Consult Dealer". I got it back with a new ECM on Thursday, went and picked up a buddy so I could get a good shot of the burnout (the only one I've ever done), and traded it in the next day.
My GTO was hands down the worst vehicle I've ever owned. It was also my favorite. I loved driving it. I loved the sound of it. I loved the power. I loved the looks (I like sleepers, so it was perfect). I still miss it.
What was the worst car you've ever owned?