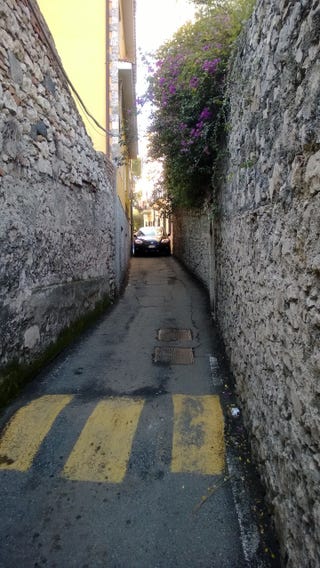 "This is a rental car!" that's all I could hear my dad yelling at me as we made our way through the tiny streets of Taormina, Sicily, but before I get to the video below, some context. Some of you may remember a few posts I made earlier this year about Italy. My wife, family and I had finally gotten a chance to go to Italy and had made the decision not to get picked up at the airport by taxi or anything, but rather let me drive, which is obviously the right decision! And while this turned out to be about an hour long drive along the coast of Sicily, at night, up mountain roads, and it was a blast. We had rented a 2013 Ford Focus Estate manual diesel, the review is coming, I promise. We made our way to the house we were staying at in the dead of night with really no direction other than "go North a bit and you will see the signs" which had been told to us by the Avis person. We did have a GPS, but the actual address of the house would not go into it. We finally just put the town square into it and set off. After two wrong streets and ending up in bumper to bumper traffic in the middle of a town where everyone was triple parked and to which we still have no idea what the name was. And after a blast down the autostrada, where I was told to continually slow down even though everyone else was going way faster, we made it to our destination.
(International rule of Christopher)
The next few days we didn't venture out that much with the car. But on Christmas day we decided we wanted to head down to the beach and the car was the best option. We all piled into the lovely Wagon and hit the windy mountain roads that led to the beach, or at least what we thought led to the beach. We spent 30 minutes leaning through hairpin turns and going through small villages with streets that have the width of a Smart car, never making it to our destination; we gave up and decided to head back home. With our Italian sense of direction being quite lackluster we made it to the street you see below. There is actually way more to that street than you even see in the video, my wife only started filming when my parents thought we were stuck. Getting to that street was at least a 45% incline with a hairpin turn that was being partially blocked by some Renault! Then we go to this.
What you also miss is the line of scooters and two cars that were then behind me! It was a bit stressful but at the same time a lot of fun. What wasn't fun was the day after I went to pick them up from the supermarket and had to do the entire thing again, but this time without any assistance from someone outside the car. This was a fun time and I figured I would share with all of you, and I had video so it worked out better! Hope you all get a kick out of it!
You can find me here on Twitter