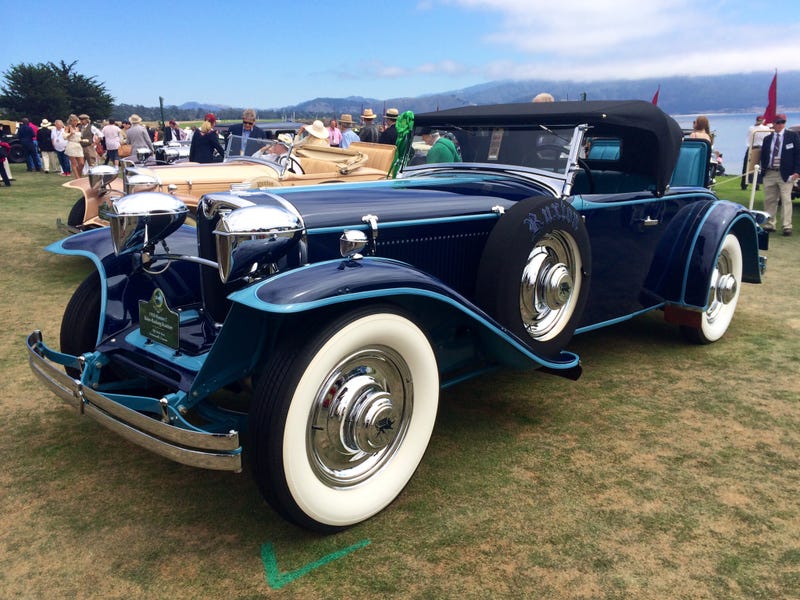 This is it: the Pebble Beach Concours d'Elegance. I'm very excited to be crossing this one off the bucket list. What an incredible experience.
I started out with the Ferrari 250 Tr class. Yes, that's an entire class for Ferrari 250 TR's. There were twenty of them there
This is the only other TR I had seen before. Presented by Ralph Lauren.
That is Sir Jackie Stewart. I literally almost bumped into him. I was so close to him, he put his arm up to block me. I reacted like a teenage girl at a One Direction concert.
Motorcycles!
This one was beautiful and I believe the class winner. The Kavalier
I'm going to let the pictures do the talking. Kinja cannot handle this free airport wifi.
OSCA MT4
Alfa Romeo with custom coachwork
BMW 503
Siata 200cs
Kurtis 500x
Pegasoooooooo
Badass single-bubble xk120
Lancia 1800 Zagato
Abarth Simca, my second favorite car there. Exposed four banger in the way back, plus looks that kill.
A mkIII GT40 up close and personal
Zagato-bodied Maserati
A very early Ferrari
So much brass and copper!
There was no dash in this Rolls. Fuel and oil pressure in the footwell, speedometer outside
Tools add so much to the originality
A true work of art, and of course I'm talking about the distributor cap
Installing this in my Acura as soon as I get home
Black and green were in this year
Here is your 2014 Best of Show winner: Ferrari 375 MM.
Riley MPH
The legendary Silver Ghost
Bugatti Type 57sc
Beyond elegant
This car was my personal Best of Show. The 1967 Ferrari Dino 206, owned by the one and only Jim Glickenhaus.
I've loved this car since I was a kid. I remember reading about it in books at the library.
That's Jim there in the hat
Ruxton: the coolest classics you've never heard of. The unique headlight shape and paint jobs helped these cars stand out from the crowd. The Ruxton cars had their own class and were the featured car on this year's Concours poster
The best part of the show was when I ran into Sir Jackie once more. He just so happened to be riding in a Ferrari that parked next to me.