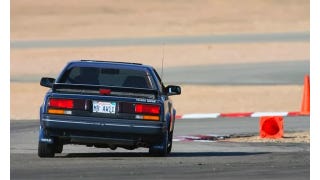 The first generation Toyota MR2 was a lightweight 2-seater budget sports car built from 1984 to 1989. A speedy version had a small Roots supercharger mated to an inline-4 cylinder making 145 hp...not exactly a screamer by any standard. Stick a big V6 from a Toyota Avalon into the back and suddenly things get exciting.
Find this 1987 Toyota MR2 with 1MZ-FE Swap offered for $4000 in Upland, CA via craigslist. Tip from Rod S.

The original 1.6 liter 4-banger has been replaced by a 1MZ-FE V6 from a Toyota Avalon. The 3.0 liter 1MZ engine is rated at 192 horsepower and 208 ft-lbs of torque stock— this one should be good for a few more ponies with an intake and exhaust upgrade. Thankfully the seller has mated the Avalon V6 to an MR2 sourced 5-speed gearbox with limited slip differential. Let the hooning commence.
This isn't a pretty example of a AW11 generation MR2 and the paint is flaking off like peeling bits of skin from a bad sunburn....but it is being driven by the owner as it should be..sideways on a track. Many owners shy away from showing pictures of their cars on a track because many sellers know that each track mile is like 100 road miles on the wear parts, but savvy buyers know that people who track their car will replace certain components (brakes, bushing, tie-rod ends, shocks, ball joints) due to the fear of potential death.
See a better way to get a paint-ready V6 powered MR2? tips@dailyturismo.com
Originally posted as 5k: Avalon Power: 1987 Toyota MR2 1MZ V6 Swap on Daily Turismo.
Low resolution image credits: craigslist; Tip from Rod S.