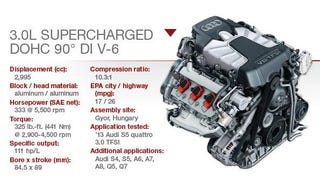 When placed in the S4, S5, A6, A7, Q5, Q7, or even the A8.
This motor shines the brightest in the A6 and A7 where its power and smoothness are perfectly in tune with the car's ideals. This engine is extremely smooth, and powerful. At no point does it ever strain to do what it is asked to do. It also gets very good gas mileage. It is a bit overwhelmed in the Q7 and A8 but never to the point where it's intrusive to the driving experience. In the punched up versions in the S4 and S5 it is a screamer.
Bravo to VW and Audi.