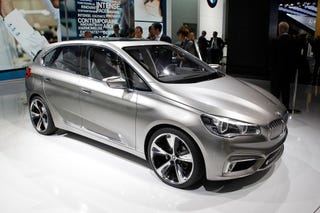 -meh
The five-door hatchback, on display at the New York motor show, is a plug-in hybrid with four-wheel drive. A transversely mounted engine drives the front wheels – an acknowledgment that entry-level BMWs from the new small car line-up will come with front-wheel drive – and the rear wheels are powered by an electric motor.
The platform is known as UKL1 and will be used in two wheelbase lengths both for the next-generation Mini line-up and the new range of entry-level BMWs to join the 1-series line-up from late 2013.
This range, designed to boost BMW's annual sales volumes to two million by 2020, will include a new MPV previewed by the Concept Active Tourer to rival the Mercedes B-class and Volkswagen Golf Plus.
The Concept Active Tourer showcases BMW's new 1.5-litre three-cylinder direct injection petrol engine that will be a staple of the small BMW and Mini line-ups. Codenamed B38, it will also be used in the i8 sports car where it is installed longitudinally.
The twin-scroll turbocharged engine is from a new modular family that will eventually support three, four and six-cylinder petrol and diesel powerplants boasting up to 60 per cent component commonality for more flexible production than today's engines.
In the concept, the engine is supported by an electric motor and lithium-ion battery pack mounted in the floor and drive is channeled to all four wheels through an eight-speed automatic gearbox. Combined power is put at 188bhp. In all-electric mode, the concept is rear-drive.
BMW claims 0-62mph in "less than 8.0sec", a top speed "around 120mph" along with combined economy of "more than 113mpg", a CO2 rating of "under 60g/km" and electric only range of up to 18 miles. No weight figures have been announced.
The UKL1 platform is engineered for both front- and all-wheel drive layouts. UKL1 is derived from the German words 'unter klasse', meaning sub class or entry level.
The switch to front-wheel drive is an about turn for BMW, which has always said longitudinal engine layouts provide better weight distribution and a more dynamic drive. It also makes a mockery of some previous BMW advertising campaigns, but the about turn is driven by the need to reduce production costs and provide competitive packaging for a new generation of small cars.
The underpinnings make the handsome Concept Active Tourer an uncharacteristically proportioned BMW. It has a short bonnet, high roof line and angle tailgate, but dressed in a contemporary skin that insiders hint won't change too much for production. Concept car features include 20in alloys, but 16in wheels are tipped to be offered as standard.
Although likely be badged as the 1-series GT in production trim, the new car owes little to the look of the latest 1-series hatchback. Instead, the Concept Active Tourer uses details that align it more with the 5-series GT– a signal that BMW is attempting to provide its new GT models with a family look in a move similar to its more rugged X models.
The concept's principle designer, Michael de Bono, says the design aims to combine the agility of a small hatchback with the practicality of the 3-series Touring. He also says the new layout redefines the perception of BMW sportiness, creating a "new agility."
It features a range of innovative functions that de Bono says could make production. These include: an 'air breather' that sucks air from the wheel wells; active aero within the kidney grille that can close during motorway cruising; lightweight wheels that use aerodynamic blades to lessen wind resistance; and "big leaps" in front and rear infotainment integration. He adds that parts of the design will influence the wider BMW family, not just those on the new UKL1 platform.
At 4353mm in length, 1834mm in width and 1560mm in height, the five-seat Concept Active Tourer is 6mm shorter, 49mm wider and 5mm taller than the second-generation Mercedes B-class. Its 2760mm wheelbase is 30mm shorter than the B-class's.
As with the exterior, the interior design differs from that of BMW's more traditional rear wheel drive models, aiming to take full advantage of the packaging improvements offered by its transverse engine layout. Michael de Bono comments that the front-drive platform allows the car's interior to be opened up to all occupants, rather than being specifically driver-orientated.
While the concept car uses an opulent mix of materials, expect the production to boast a level of perceived quality in line with 1-series.
The front seats are raised to a height comparable to that of the BMW X1. The rear seat folds to extend boot space in 40:20:40 split, while a table can be erected on the rear of the front seat backs to extend the concept car's practicality.
Click here for more New York motor show 2013