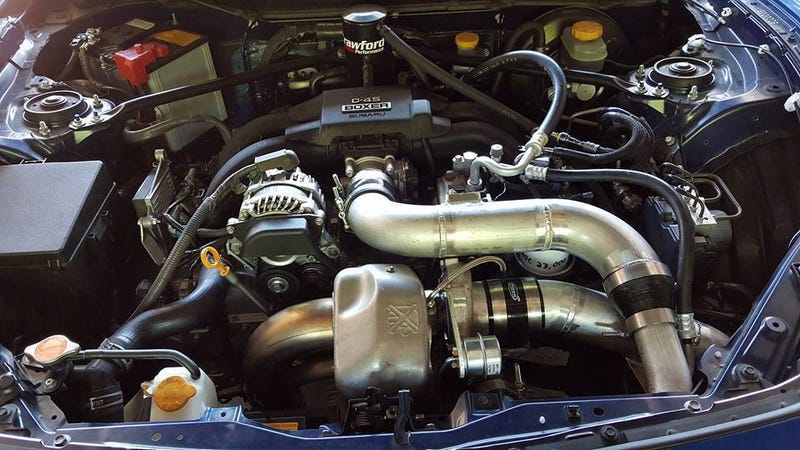 The BRZ/FRS is a fun little car but let's face the facts, it's slow. Subaru should have made a turbo version but they didn't. Instead, Crawford Performance developed a ridiculously fast kit called the "Plus 300" which makes 500hp/550tq on E85 (Slightly less on pump gas). But it's bit pricey at $7,995 plus options, which is why Crawford is releasing a more affordable "Plus 100" turbo kit later this week for $4,400. They are in the final stages of tuning but the dyno graphs are looking pretty awesome.
Crawford has been making massive turbo power on Subaru's for years including Ken Block's Gymkhana 1 & 2 cars but you might be more familiar with their faster "Plus 300" kit from Matt Farah's episode of Tuned on the Drive Channel:
So if you're looking for turbo kit designed around the stock engine internals, this is the BRZ/FRS turbo kit you have been looking for! Even better is that you can upgrade later to the "Plus 300" if you decide you need more power. More information will be out later this week on Crawford Performance's website.

And yes, I am good friends with the guys at Crawford Performance and used to drive their "Plus 300" car in Time Attack, but their turbo kits are pretty awesome and this kit is that a lot of us have been waiting for, so I thought I'd share. And it might be time for me to buy a Suabru...