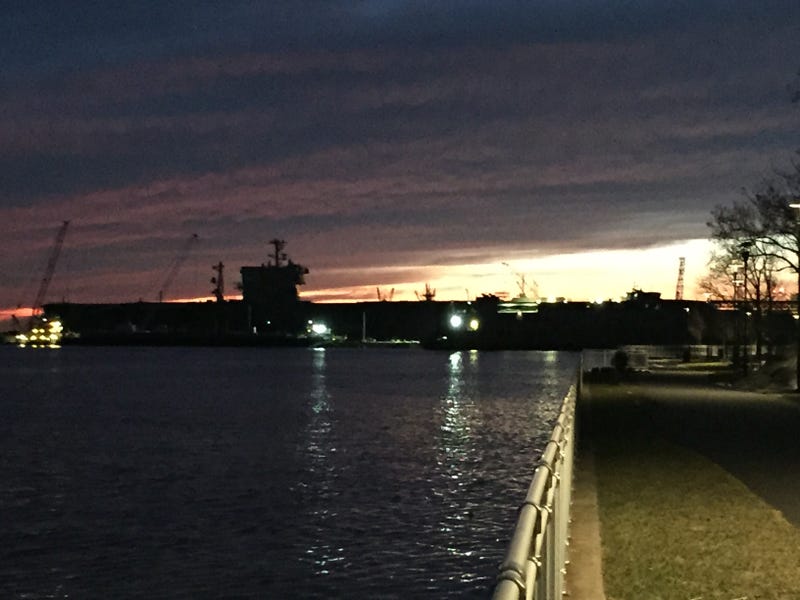 This is the USS John F Kennedy, CV-67. The last conventionally powered U.S. super carrier ever built. This has been docked at the Philadelphia Naval Yard since late 2008, joining USS Saratoga. The USS Saratoga was sold for scrapping in 2014, leaving only Big John here.
This is the first super carrier I've ever seen, and by God it is massive. I completely underestimated the height of these ships, and I now see why this ship is called 'Big John'. I always knew they were long, but this just towered over me, something I never considered. I've seen the USS New Jersey (Which happens to be not a mile up the river), and that doesn't hold a flame to the size of this.
But to see it in such a state of disrepair is saddening. The Philadelphia Naval Yard is not an active Navy Yard, it is a 'Navy Inactive Ship Maintance Facility'. Which sounds similar but I assure you it's not. This is a warships death bed. Most likely they won't be scrapped here, but they'll be sold off to scrapping companies from here. (That being said, judged off the state of the JFK, I find the 'Maintance' part ironic).
I know it's just an inanimate object, but it's seen things. It's seen the good, the bad, the ugly. And for those memories reduced to the state it is above. Maybe I'm getting a *little* poetic, but I don't have the writing skills to properly convey the somber feeling this ship just radiates.
But there is hope for this ship, it's the last chance for a 'cheap' museum, as there is no nuclear reactor to remove, so most likely it'll find a home. (Most likely in Rhode Island if this website is to be believed).
However there are so many ships in the navy yard that will never see anything more then the scrapers torch.
These are the Ticonderoga-class cruisers USS Ticonderoga, USS Thomas S Gates, and the USS Yorktown. I'd tell you which one is which, but there Identification numbers have been painted over. These don't have a chance in hell compared to the JFK to become a museum ship. They're all listed as 'To be disposed of'. Additionally, they're not historically significant, nor are they an overly interesting ship. Not to mention, they're awkward looking, and not even remotely intimidating. A ship people won't want to see. And if the Saratoga was scrapped, what chance do these ships have?
There were more ships here, a row of Oliver Hazard Perry-class frigates that look like they were ready to sail in comparison to the Ticonderogas, and an amphibious transport dock, and several others, but by the time I got to them the sun was too far down and the pictures were getting extremely fuzzy/ugly. I barely included the Ticonderogas because the pictures are so fuzzy.
But between this and its sister ship the Kitty Hawk, there are no more museum canidates. The Forrestal class ships have all been determined to follow Saratoga. And hopefully, John F Kennedy won't follow the way of its Former neighbor either.
DISCLAIMER: During no part of this did I trespass to take pictures. This was all open, and the only security was a tiny booth at the beginning of the ship yard, with a guard who waved us in. Also, I didn't go to the ship yard expecting to write an article after the fact, so all I have is shitty iPhone pictures. Sorry