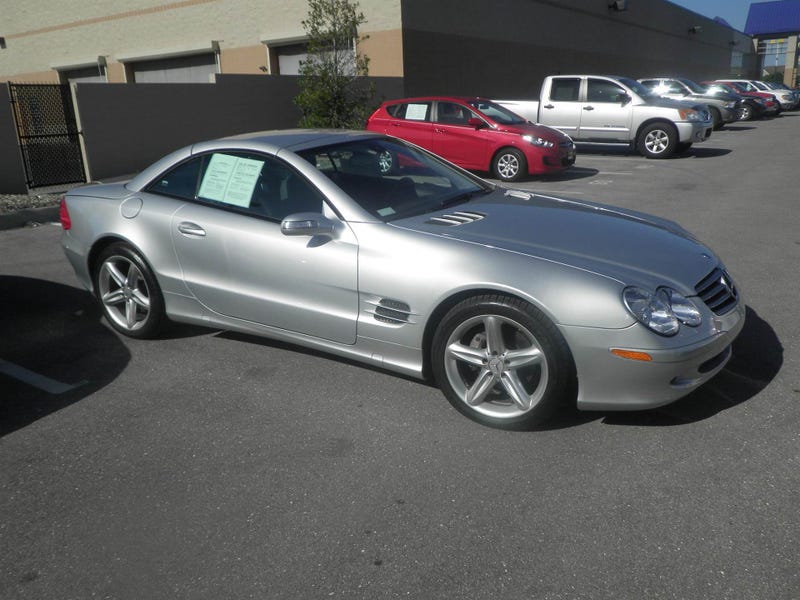 There is a possibility that I could be daily driving one of these kick ass things in the near future! If we got one it would be my parents car but I would get to daily drive it!
You see, my parents have friends that like to ride Harleys and my parents want to be able to go on trips with them. However my mom is terrified of riding a motorcycle after she worked in the ER for a couple of years. So her solution is that she wants to get a convertible and go drive it with the pack.
So if we go through with it we would trade in the Mini (which has no warranty) and buy a 2006-ish SL500 from carmax for about $30,000 and then get the 6 year 60,000 mile warranty on it (thanks doug for telling us about it!). Seeing as how we would be trading in my car I would drive the SL daily until I leave for the Peace Corps in about 2 years. When they wanted to use it they can and I'll just drive my Dad's pick-up.
I've already been doing research on upkeep and it's not really that bad! $700-800 for 4 tires and while the $120 for a normal service is steep, with the money we'd be saving not having to buy expensive parts I think we could manage.
So yeah if this goes through I'll be pretty excited to get to drive around in an SL500 for 2 to 3 years! I would go on SO many road trips!