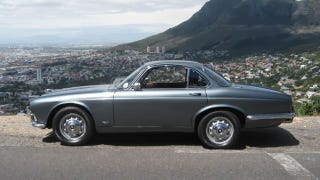 The Series I Jaguar XJ is the quintessential British saloon car from the 1970s and was available from 1968 to 1973 in various forms, but always a 4-door sedan. If you want a series I Jaguar XJ coupe, you will need to build it yourself, or pickup one that someone else has created.
Jaguar sold a coupe version of the XJ Series II in 1976 and 1978 but it was somewhat redundant because of overlap with the more modern looking XJ-S released in the same year. Find this 1973 Jaguar XJ6 Coupe for sale in Cape Town, South Africa currently bidding for $10,000 USD with 6 days to go. Tip from Rene C.
South Africa is one of the few countries located outside of Europe, North America or Japan that has been building cars for almost a century. Not only have major OEMs built factories in the South Africa, but the local population has developed a car culture that is above and beyond anything else you will find on the African Continent.
The biggest concern with any modified chassis car (removing a door is not a simple task) is the fact that the end result can resemble something from Mary Shelley's famous novel. This one looks really nice in the few photos and it is apparent that they cut the car and used the front half of the front door and the rear half of the rear door (notice wing window at rear of door) so, they lost quite a lot of wheelbase.
The engine under the hood is a 4.8 liter version of Jaguar's XK inline-6 that would have put out 173 horsepower from its 4.2 liter displacement. The seller does not indicate what parts he used to achieve the increased displacement or what the new power level should be, but 4.8 stroker kits are available and it should pick up a few ponies.
The interior looks good in the few shots included, but it is important to carefully check out the craftsmanship around the spot where the two doors attach together...not to mention the two halves of the chassis.
See a cooler extra-short wheelbase Jag? email us here: tips@dailyturismo.com
Originally posted as 10k: Short Wheel Base: 1973 Jaguar XJ6 Custom Built Coupe on Daily Turismo.