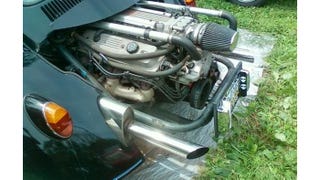 For better or worse, the Volkswagen Beetle is a motoring icon with a 65 year production life and 21 million units sold - unmatched in quantity by any other single vehicle platform. This Beetle has a Corvette V8 mounted in the rear and is flippin awesome.
The original flat-4 is both the biggest asset (reliable, simple to fix, cheap) and problem (low on power, noisy, unrefined) with the original Beetle, so swapping something else into the back isn't a bad way to go. Find this 1971 Volkswagen Beetle with GM LT1 V8 for sale in Philadelphia, PA for an undisclosed sum of money via craigslist. Tip from David K.
From the back it looks like someone wasn't finished shoving the LT1 into the back of a Beetle and just put down his tools and said; "Yup I'll finish this tomorrow" and promptly fell dead from a heart attack. It is just as well, because the first ride around the block in this thing would cause cardiac issues.
There probably isn't much left from the original Type 1 other than some glass, the basic body shell and maybe the floorplan. The from and rear fender/hood pieces are single piece custom bits and make the end product look sweet..at least we make that assumption because the seller does not include a single good photo of the entire vehicle. There are a few pics of it in pieces and one shot of the Corveetle in the dark...

See a better car for spinning backwards and up-side-down into a ditch? tips@dailyturismo.com
Originally posted as ?k: Corveetle: 1971 Volkswagen Beetle with GM LT1 on Daily Turismo.
Image credits; craigslist.