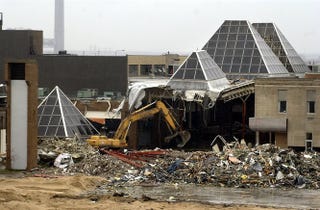 I'm an online-shopping kind of guy. But sometimes, I want/need to get my hands on something right away, so I head over to my local retailer. I'm worried my local retailers just won't be here much longer, because I've had two recent experiences with stores that MAKE NO SENSE.
Experience 1: Best Buy
I bought a new Moto X Pure Edition at my local Best Buy store, then a few days later discovered a defect in the screen. I liked the phone, so I wanted to exchange it for a fresh one. You'd think I could just go to my local store and exchange it, but when I bought the phone, the guy at Best Buy made sure to tell me this was their last one. So I went on Bestbuy.com to see if my local store had received any more Moto X Pure Editions. They hadn't.
I called my local store, explained I wanted to exchange this phone which is no longer in stock, and asked what I should do. They didn't really know but said if I came into the store, they'd sort me out.
I went to the store. They tried to order a replacement phone, but couldn't. Even though I had bought a Moto X Pure at this very Best Buy location, now the phone was only available to buy on Bestbuy.com. Even though it's available on Bestbuy.com, the store couldn't order a phone for their own inventory.
The only solution was for me to pay for a new phone to be ordered from Bestbuy.com, which the local store oh so conveniently ordered to be shipped to my house. They wrote some notes on my receipt that basically said, once the new phone arrives at my house, I could return the phone with the bad screen to the store outside the normal 14 day return window.
So the new phone arrived, I transferred all my stuff over to it, wiped the one with the bad screen, went back to the store again, and returned the bad-screen phone.
Oh, and since I used a $10 Best Buy Rewards certificate on my original purchase, but the new phone was purchased before the old phone was returned, now the reward certificate has reverted to my rewards account, and I need to call 1-888-Best-Buy to have them re-apply the certificate to the second purchase.
There were actually more quirks to this process than I'm describing here, but this "shorter" version of the story is already too much information!
Experience 2: JCPenney
(Pictured: A JCPenney location that looks much nicer than my local stores.)
Last Monday I went to my local JCPenney store to buy a dress shirt. I need this dress shirt to go with my new suit that I'm taking with me on a flight this Friday October 9 to go to my cousin's wedding. They didn't have the color I wanted in my size. They placed an order for me from JCPenney.com to be shipped to the store. I told them when I needed the shirt. "Not to worry! The order should be here in 4 to 7 days!"
Yesterday (a week later), the order status on JCPenney.com still said "pending shipment." I called the customer service number to see if I could find out when I might receive this shirt. They were completely incapable of finding that out.
The very nice JCPenney.com customer service lady who I spent a good 45 minutes on the phone with couldn't even tell me whether or not the shirt had actually shipped. One screen in her database showed it had shipped, but she couldn't pull up the shipment status. She asked me if I had a shipping tracking number. "No, I don't have a tracking number because when I check the order status it's saying it hasn't shipped yet."
She called my local store. They didn't know where the shirt was. They told her, and she relayed to me, their online orders arrive on Tuesdays and Fridays, so if the shirt got there Tuesday, they would call me on Wednesday. Waiting until Wednesday to find out that maybe the shirt actually wasn't at my store yet, wasn't really an option.
With all the time I sat on hold, I used JCPenney.com to discover that the other JCPenney store in my town that's a whole 15 minutes farther from my house, had the exact shirt I need in stock right now! Not that the JCPenney.com lady would be able to find that out on her own, because she didn't have access to local JCPenney store inventory. I told her I found the shirt in stock at my other local store, she put me on hold again, called the store that did have the shirt in stock, and asked them to hold it for me. BUT SHE COULDN'T CANCEL THE ORDER THAT'S GOING TO THE FIRST STORE.
So now I have to go to the second JCPenney store, get the shirt, and wait until whenever the online order makes it to the first store, at which point I will have to tell them I already got the same shirt at the second store so they can cancel out the order.
Again, I spent 45 minutes going through this process. At least the very nice JCPenney.com lady was very nice, and gave me $30 worth of reward points on my account for the inconvenience.
COME ON STORES, IT SHOULDN'T BE THIS HARD TO BUY OR RETURN THINGS.
Now, maybe this is how things have always been with old-school big box retailers. Maybe even though Amazon and other companies like it have made online shopping so convenient, I shouldn't expect that to be the case everywhere I go. But when a store can't even handle a simple exchange without making me buy a second item before returning the first one, or keep track of when an item will ship, it's kind of ridiculous.
I want my local stores to stick around. I have no great love for Amazon, even though I buy so much random crap (hello, bulk packages of fancy cat food and litter shipped for free in 2 days!) from them. It's nice to be able to walk into my local store and walk out with a product. But if they don't get their act together, I'm afraid they're all going to be extinct.