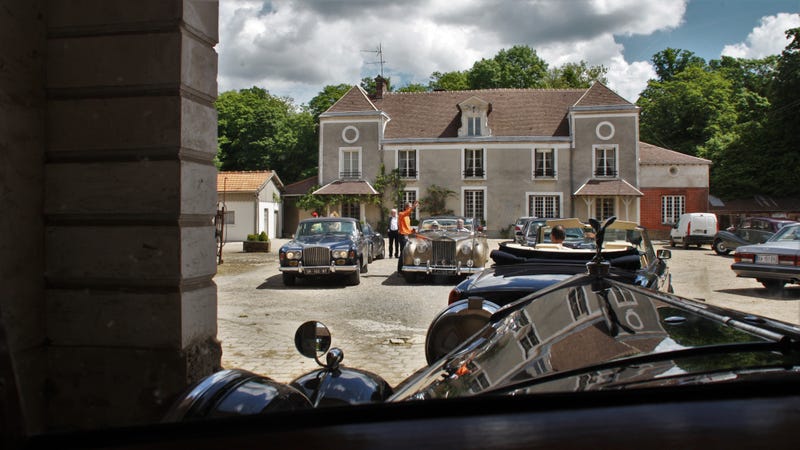 You don't know "fine" until you've experienced "Classic Rolls-Royce Meet-up In Sunny French Countryside" fine, my personal favorite Fine brand.
Yesterday I went to a meet of the French branch of the RREC, the Rolls-Royce Enthusiast's Club, which is of course the official RR (and Bentley) owner's club.
There weren't too many cars, just about a dozen or so. But I kinda appreciate that, since it left me time to spend up close and personal with each car.
Now, this isn't exactly the kind of gritty, Oppo-like meet that I usually enjoy more, but my god was it a fine day. Perfect weather, a surprising variety of cars (as much as you can given the theme of the meet), and gorgeous locations nestled about 30mn east of Paris. I grew up not very far from that area, but I had absolutely no idea the places we went to even existed. Really great job by the gentleman who set about picking our itinerary for the day.
We first met up at a very impressive chateau built by one of France's richest families in the early 20th century. The gravel alley, the impecable grass and the whole park were a perfect setting for such a refined group of automobiles.
After a brief tour of the cars (and their servants) we set off to our next location, an old farm reconverted into a very lovely stable.
After a brief tour of the place it was time to move our little group through some narrow countryside roads to our lunch location, itself quite fitting of our car aristocracy status.
And after a couple of hours spent eating a great meal, chatting with the owners and circling each car like a famished bird of prey, we started the startlingly silent engines and headed to our final destination for the day. Honestly I have never witnessed a quieter classic car meet. These put hybrids to shame.
We gathered our esteemed herd of noble steeds (sorry I must have caught something) in a 14th century castle, in which a dude actually sort of lives, with no electricity or even properly sealed windows. Fascinating discovery, and again, perfectly fitting of our pack!
And after that, it was time to go home, mesmerized by all that luxury. Truly one the finest ways to spend a Sunday.
As usual, to see more pics from that day you can check out my album on Flickr: