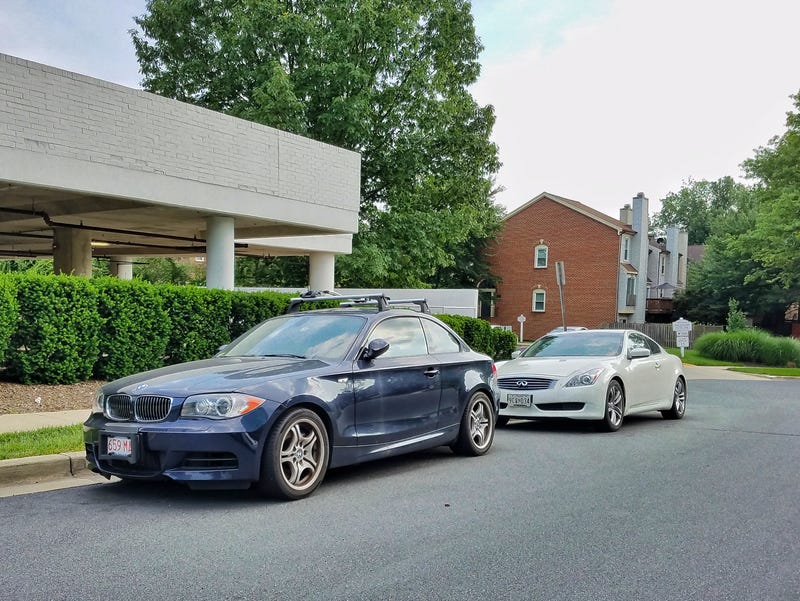 This 135i has been parked next to the office building parking garage on the street that leads back into my neighborhood since at least April. The G37 behind it also really likes the spot it's in.
I first noticed these two cars because they were parked in this exact spot back in April when I first met the realtor to look at my house, and they were still there when I moved in. They stayed there for several more weeks after that. I had been meaning to take a picture of them, but kept forgetting, only for the G37 to move. But when it parked back behind the 135i again a couple days later, I had to act quickly!
This particular 135i is painted the same Carbon Black color as my old 135is was. But this one has an abominable—like all of them—roof rack and some kind of weird bumper cushion tag frame on its front Massachusetts license plate. THIS IS SPAAAARRRRTTTAAAAAA MARYLAND.
Its brake rotors were heavily caked in rust, from having not moved since at least April, and probably longer than that. The wheels are BMW Style 68, which are 17 inch wheels that came on the E46 3-series, not the 1-series.

Maybe the owner switched them on at some point. The tires are Hankook Ventus v12 evo summer tires, so these were not, presumably, smaller-diameter winter wheels.
My neighborhood is close to a Metro station, although it's a good 3/4 mile walk, so the 135i could in theory belong to a neighbor who rides the train in to DC for work. But you'd think they'd use it to run an occasional errand out here in the burbs, or something, every once in a while. Alas, it just sits there, collecting rust on its brake rotors.
At least the power folding mirrors were activated before it was left to rot.