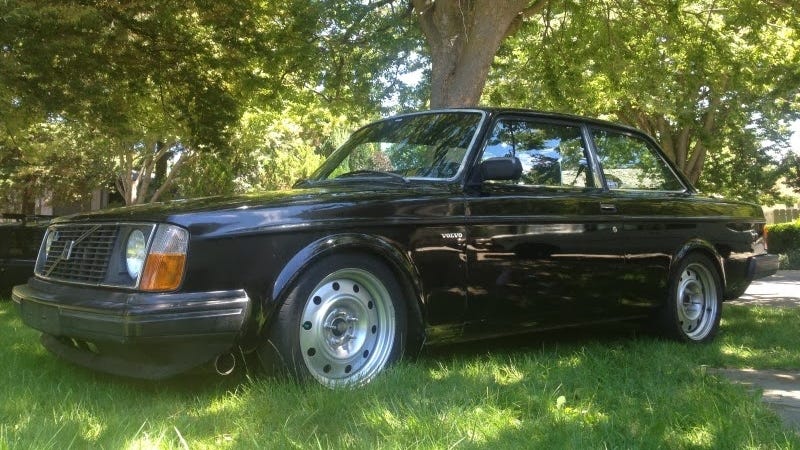 The Volvo 240 chassis is a good hunk of metal let down by a wimpy stock engine, wallowing stock suspension and tires from the Huffy catalog. Start fixing each and every single one of these problems and you will soon have a fast, fun and boxy Volvo...or just buy this one.
Save your time and money - buy a completed project from someone who wants out. Find this 1983 Volvo 242 with turbo LSX V8 for sale in Modesto, CA for $12,500 via craigslist.

This isn't just another carburetor equipped 350 shoved into the front of a 242 after a weekend of fighting some old Volvo ignition model, it is quite the contrary. The seller has a ton of time into fab work on a custom turbo system, custom subframe - the list goes on here on his thread on turbobricks and ls1tech. And the car...it goes well too...10.7 second 1/4 mile passes as seen on youtube. The only visual clues that this is anything other than a slightly lowered 242 is the wastegate exhaust dump directly in front of the driver's side front wheel. Its gonna get loud in here...
The LQ4 V8 is a generation III small block Chevy engine from a truck and is related to the LS1/2/X engine family but has an iron block and weights a few more lbs. A gigantic turbo forces more air into this engine and the car runs E85 ethanol on a MegaSquirt DIY fuel injection system to the tune of 550 wheel-horsepower.
See a better way to cover the 1/4 mile in less than 11 seconds? email us here: tips@dailyturismo.com
Originally posted as 10k: Need More of This: 1983 Volvo 242 Chevy LQ4 V8 Turbo on Daily Turismo.
Photo credits: craigslist