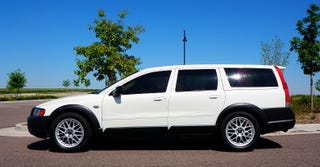 Prove your wagon love, show us YOUR wagon, past or present. I've only owned one, and I'm sure it barely qualifies as a wagon around these parts, a 2001 Volvo V70XC.
Fun big wagon, lowered on V70R front springs, S60 AWD rears, de-roof racked, with Propus Cs. This picture was taken prior to the addition of some body colored R mirrors as well.
So what have you, Oppo? Show us your wagons!