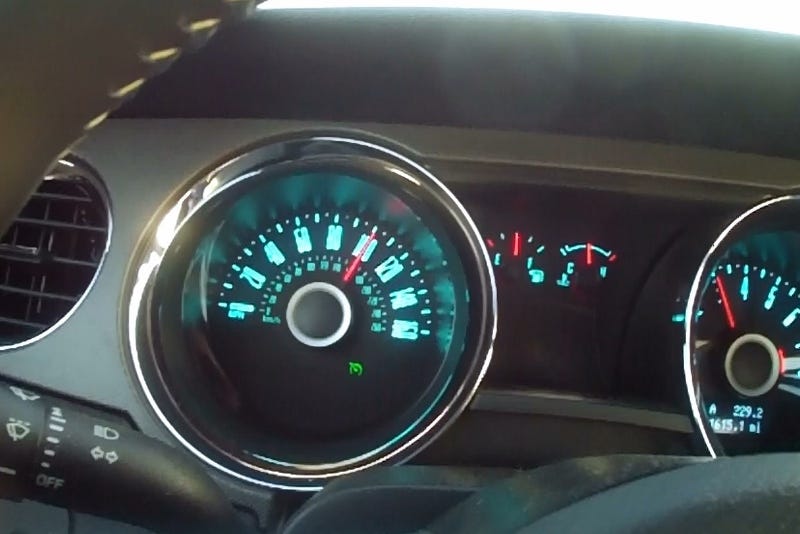 Even though I think a Five-Oh would be great, I really do like my Three Point Seven.

...and if you have read my other posts, you know all about my recent interest in buying a 2017 Mustang GT. Which, for various reasons, didn't happen.
I am on my second V6 Mustang... the first of which was a 2006 with the 4.0 and 5 speed manual. I loved the way it looked, but the allure of more horsepower and a 6 speed manual persuaded me to buy a brand new 3.7 in 2014. And it has been a great car. The little sixxer can cruise at "The Ton" with no problem, and will do it while delivering gas mileage in the low to mid 20's. Simply amazing. Cruise at the speed limit, and it sips gas in the high 20's, even with the optional 3:31 gears. Not bad for a 305 horsepower engine... not bad at all...
Yet the allure of even more horsepower and the V8 sound has me looking at 2017 GT's. My wife - who arguably is smarter than I am - is OK with the purchase, but will occasionally make the astute observation that I really don't need a V8. In fact, there is a very good argument to be made that the V8 would be counter-productive to my use of the car.
Yes, you read that right... counter-productive. After all, I don't drag race, I mainly use the car for long-distance road trips. The issue is that regardless of what engine is under the hood, Ford uses the same paltry 16 gallon gas tank. In fact, when I was looking at getting a new Mustang GT, it was a given that I would have to install an auxiliary fuel cell in this brand new car in order to maintain the same range as my current sixxer delivers... even when the 3.7 is running at *ahem* elevated highway speeds.
...and let's face it, money is always an issue. In addition to the initial cost of the GT compared to the V6, there will be extra costs such as insurance, property taxes and (yes) fuel. Those costs are of some significance when comparing a '17 V6 to a '17 V8, but the differences stack up even more when compared to my present '14. Can I afford a new 2017 Mustang GT? Sure. Do I really want to lay out the bucks needed to get the extra power and awesome V8 sound (along with a newer car)? So far, no... I haven't.
So, we are sticking with Plan A and keeping the little V6 for a while longer. The updated 2018 isn't capturing my interest, so I don't know that I'll be a buyer even in a year or two. Likewise, the turbo 4 doesn't appeal to me, either. On the other hand, the local dealer has a neat blue 2017 V6 Mustang with a manual transmission on the lot... and for the price difference of trading in my present car on a '17 V8, I could just about buy the '17 V6 outright. Two V6 Mustangs? Maybe... the wife seems to like the idea... Nah, I'm too cheap. But I might trade my present V6 for V6 Mustang #3...