Patrick George's recent article hit sort of a nerve. Can any modern car last forever? I'll go ahead and lay it out there right at the beginning: Not stock, not if you're sane.
To qualify the discussion, let's go ahead and define what "forever" means. Let's start with this guy:
This man is Irv Gorden, and the P1800 he is standing next to has eclipsed the 3 million mile mark. 3 million miles. That right there is the bar, folks. Much of the discussion in the original thread centered around eclipsing 200K, or even 300K. Irv says that ain't shit. He isn't the only one either. Class 8 trucks hit mileage like that regularly. A quick search on truck trader showed 2 rigs for sale with 7 digits on the odometer within easy driving distance of my house, like this youngster with a mere 1.1 million miles. So what do an ancient Volvo and a new 18 wheeler tractor have in common? The original intent of the engineers who built it.
In both cases, the OEM was comfortable charging a higher price for a piece of tech designed to last. Cars are increasingly looked at as disposable, and the incentive to build a really tough one just isn't there. The reality is, there is much more money to be made in selling people junk. This is true for individual parts, and the vehicle as a whole. Think of the alternator that's ruined when a little resistor fails on a non-removable board. That's the philosophy that built your whole car. As you move forward in time from 1976 (the day the music died), the problem only gets worse. A never-ending pressure to drive down cost and increase turnover in the market.
Maybe the reason this hits me so close to home is that the topic has suddenly become relevant. I started an awesome new job that involves a ton of driving. Typically around 1000 miles a week. My Fusion is a great car, but with 92K currently on the clock, it'll be junkyard bait in another two or three years. Let's look at the case of my little Ford, as I think it is fairly representative of a "simple" modern car. This '09 has no turbo, no nav, not even an automatic transmission. It's a proven, reliable Mazda based drivetrain that could easily reach for that quarter million mile mark. But where does that leave us?
Let's start under the hood. Since this car is one of the 2% of the Fusion population that features three pedals, it avoids one of the major pitfalls of aging in the modern automotive world: the slushbox. This is one of the biggest sticking points, and it crosses the lines of model and manufacturer to affect the vast majority of cars on the road today. Modern slushboxes are wonderfully complex and intricate pieces of technology. They also have a tendency to completely give up the ghost at around 150K. At that point, you (or more likely a shop) crack open the tranny only to discover a terrible fact. The OEM never intended you to be able to rebuild it back to original spec. The fact that you can't even add fluid to a growing number of transmissions should tell you where the OEM is at when it comes to the balance of cost, serviceability and longevity. It ain't no C4 or TH350. What do you do when all the transmissions are old and worn out? The OEM barely bothered making extras when the car was new.
But being smart jalops, you all got sticks right? Great. The next big glaring problem is that cars of the current millennium were usually shipped in a late beta condition. They often have design flaws right there on the showroom floor that the OEM wasn't concerned about. Manufacturers are focused on the first owner, who probably leased and is statistically likely to be back in just a few years.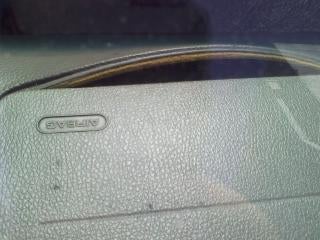 My car has an ugly looking bubble in the dashboard near the passenger airbag. Replacing it won't do any good, because it's a flaw from the factory. Just not enough support in that area, and they didn't test it long enough to discover the issue. Ford isn't the worst offender by far and sometimes the problem is more mission critical than a dashboard. Even if it's just a cosmetic issue, if the part is fundamentally flawed, you either have to re-engineer it, or live with. Image below isn't my car, but it's an extreme case to show you what I mean. You can already see early examples of this in 80's era cars with first generation plastic interiors, which are getting increasingly difficult to preserve.
That brings us to our next point; integration. Cars have lots of integrated systems today. Those systems have lots of tiny little computers, and those computers will inevitably one day fail. Think of the interactions between the ECU and the gauge cluster just to name one example. By 2065, finding that same decrepit piece of tech in a working condition is going to get tough. Your dash is tied to your engine with is connected to the ABS which speaks to the telemetry speakers while posting your GPS coordinates on Twitter. The non-functional speedometer (or whatever) might prove to be a helluva job by the time its all said and done.
In the original replies, much was made of the ability to use 3D printing to replace NLA parts in the future. That may prove to be true, but it's a bit of a leap of faith to say its a going to be easy or cost effective in all cases. I got to play around with a CNC mill for about half of last year, and as the engineer liked to say, there is no "make part" button. Unless your vehicle happens to have good community support, you'll be footing the bill for design and development of the part. You may find a $100,000 Ford Focus just isn't that compelling no matter how much you want to relive high school. I would be happy to be proven wrong here, but I'll believe in Star Trek tech when I can see it.
In the end its hard to say. All you can be sure of is that the job will be more of a challenge than a restoration on something pre-smog. You will certainly need to buy more parts, and you will be required to interface with (by then) obscure and proprietary technology. If you're willing to take a restomod route, all bets are off. The only limits are your wallet, patience and creativity. To keep it stock, you will face significant challenges.
Probably the reason I have given this so much thought is that I got my old 70's Volvo 240 back. I decided to restore it, and add it into the work mix. Going through and totaling up everything it costs to really restore a car is pretty mind-boggling. I bought cars in college for what I'm going to spend at the machine shop alone. And at the end of the day, that's a car that was designed to be rebuilt, and has a fraction of the number of components that make up my 'simple' Ford. By the time the Ford reaches the iron lady's age it will be 2049. One wonders how the part search would go, and what it would involve. Will there be a pile of Duratec 23s sitting somewhere? What's that noise from the transmission? How many of those 5 speeds are left on planet Earth? Got an automatic and you're looking for conversion parts to a stick? Have fun. I know that if the Volvo is still around in 2049, it'll be an easier job.