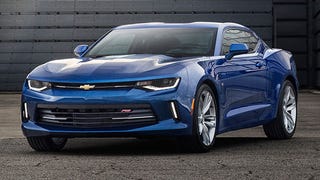 No, it's not April Fools, I actually went and test drove a new Camaro. The one I drove(the dealership wouldn't let me leave the lot, but it was a big lot and I got to hit over 50 mph in a very short distance) was a 2LT RS in white with the 8 speed, but I did get to sit around in a 1LT and the same pretty much applies.
Pros:

Everything I would normally touch in the interior felt nice and premium. It felt decently put together, and was overall a nice place to be.
The engine felt pretty responsive, and I didn't notice too much lag. It definitely has enough power. I like it, I like it a lot.
It handled well in the corners that I got to go through. It was composed and flat, but the steering is kind of numb. The numb steering is just something pretty much anyone who wants a new car is going to have to deal with.
It was pretty comfortable for a coupe. I definitely can live with it.
The speakers sound pretty alright for both the base and the Tech package cars. The Bose speakers are definitely better, and I will spec that, but the base speakers are liveable.
The seating position is pretty good, definitely better than the FiST.
As much as I hated the looks of the steering wheel, I think it feels extremely nice.

Cons:
Yep, visibility. It's bad. Even I, who has notoriously shit on all things GM, have said that it can't be that bad. It is. But I'm 90% sure they come standard with backup cams, and the one I used alleviated that issue pretty well.
Headroom, it's not great. I can't imagine having one with a sunroof and being over 5'10". I had to sit really low in the seats. I was still comfortable, but I definitely will not be getting a sunroof.
GM has successfully made 18" wheels look cheap and small. I will have to live with the 20" ones.
There isn't a whole lot of storage space. Maybe my expectations were a little high, but where am I supposed to put my Glock?
One more con that I forgot, the starter button. It glitched on me before the test drive. I'm not really a fan.

Overall:
I forgot the biggest Pro: It did something that the FiST did not do, it made me feel special. It made me feel like getting the base model and engine would not at all be a penalty. It also changed my outlook on GM. Maybe they have changed, because they successfully changed the mind of one of the most stubborn people on earth, Me.
As long as I can get the discount that I'm pretty positive I can get, I'm getting a Camaro. My mind has been changed about the brand. It's an amazing car, and the FiST(while extremely fun) can't really compete with the way it made me feel.