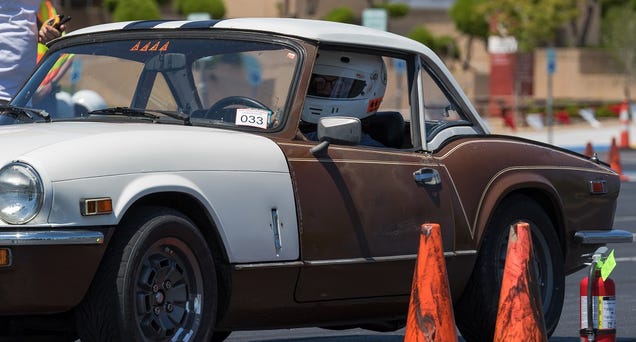 Several weeks ago I wrote about the new Heritage Classic classes the SCCA has launched for foreign sports cars built prior to 1974 (and subsequent years of models in production in 1974 like MGBs), and also alluded to another autocross I had done with the Vintage Triumph Register (http://vintagetriumphregister.org/) in Norman, OK. That event was a Regional, and I had a bit of a score and grudge to settle from the previous year. So this was not only important to me, it also meant I needed to do some planning.
The backstory is simple. In 2015 I was the autocross chair for the Regional. Two weeks prior to the event, I helped run the Austin Healey autocross in the same lot. It was pouring rain, and the course went clockwise. I drove it in a Miata and a Porsche 911 to give some fun rides to people (like the head of the Chamber of Commerce). Two weeks later we used the same lot in blazing sun, the only similarity in courses was the fact both ran clockwise. At the end of the day I got in my friend's Spitfire (a car I hadn't driven in 4 years and was driving as my Spitfire had been in SC for 4 months at that point) which had a failing clutch and I set Fastest time of Day. Some folks cried sour grapes claiming I had an unfair advantage and proceeded to cause a huge uproar that took weeks to resolve. I still have yet to receive my class winning trophy but at least have the FTD one...
Fast forward a year. I wanted to defend my title, as well as shut up the critics. This year I'd be competing in my own car, and set about to prepare it. I figured if I could repeat or be close to winning FTD in a different car, that should shut up the critics. Plus I wanted to see if my theories I had about car setup were valid, or would they be a crushing disappointment? On the plus side, I was really looking forward to competing against my rivals and good friends Ruth and Ray, a husband and wife team of great autocrossers. They are my closest competitors, and also great friends. You'd be hard pressed to find more competitive yet humble, gracious, and fun loving people as them. Also, I was excited to check out the OU campus as I'd heard it was quite pretty.
So on the early morning of the 22nd of April, I began the 360+ mile trip from Austin to Norman. Spare parts, tools, jack, and 4 wheels with my autocross tires on them jammed into the car with me. Driving a Spitfire up I-35 is an adventure to say the least. I barely made it to Norman in time as there were several delays enroute due to accidents or construction. But I arrived and checked into the Regional, left my laptop and duffle bag with the nice folks at registration (I had no time to check into my room) and headed over to the autcross venue.
While my car was teched I swapped wheels, signed a waiver, got my wristband, and caught most of the driver's meeting. I even got a course walk in. Before I felt fully ready it was time for me to get to grid, as I was in the 1st heat. I was hoping for 2nd heat so the course would be grippier, but it's luck of the draw in autocross to some extent when you run and you make the best of it. So I went to the line and began my runs.
I wanted to set a really high bar for Ray and Ruth to have to top. I had FTD when my heat ended, and I won my class by 4.1 seconds. I was pleased. My car performed as I hoped, my theories were reaffirmed, and I had set a pretty tough time. But the second heat had the advantage of rubber on the course, the surface heating as well, and having watched us make our mistakes. Of course, my real concern was Ruth and Ray's ability to drive their prepared Spitfire (which I call "The Red Menace"), because they are very, very, very good.
My concerns weren't unfounded. With a few runs under their wheels, Ray and Ruth were knocking on the door of my time. Then they proceeded to kick that door off the hinges. My friend Dusty snuck through for third overall with his TR6. Ruth hammered around the course just narrowly missing FTD, having to settle for second overall. When it was all over, I was 0.994 secs behind Ray. I have to admit I had a smile when I saw all the official times. Friendly rivalries are what make events like this fun. After the previous year it was nice to just drive, have results posted and go to dinner.
Now afterwards Ruth, Ray and I had a great evening talking about cars, life, and anything that came to mind. Dinner in Norman at a pub right across the street from OU was a highlight as well. Good food, great friends, and a neat venue. But I had another autocross to worry about in 36 hours....
I slept in until about 10am the next day, drove back to Austin, unpacked, got my gear ready, and drove down to San Antonio Raceway to compete in an autocross with my local autocross club Texas Spokes. I had signed up for the first eligible race with HCS, as I felt it was important to participate in a class I had a hand in creating. With a successful completion of 920 miles of driving, 2 autocrosses in 2 states in the span of 3 days, I looked forward to sleep and going to work on Monday to relax.
Photos by
If you need them in the Norman area, call them.