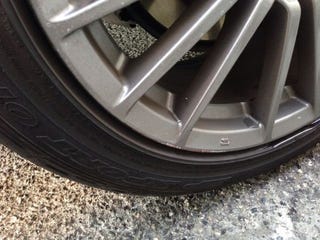 That's my WRX's rear right wheel. I slid it off a curb not too long ago coming home from work.
I was glaring at a Honda that decided to blast past me — coffee can exhaust spewing white smoke and an obnoxious racket. I'm pretty sure that I called him an imbecile under my breath just before my dumb ass realized that I was eating curb.
It's been bumming me out. I'm convinced that everyone can see it and is quietly judging me for it. Rightly so, I should add.
Owning a new car is rough. Every little ding hurts. It's something that I need to overcome, especially since this is my daily driver.
Each car wash reveals a new paint chip, and each new one hurts as bad as the first. This wheel rash is ruining me.
Has anyone else been humbled by their very own similar fuck up?
Come on. I need to feel like I'm not alone.