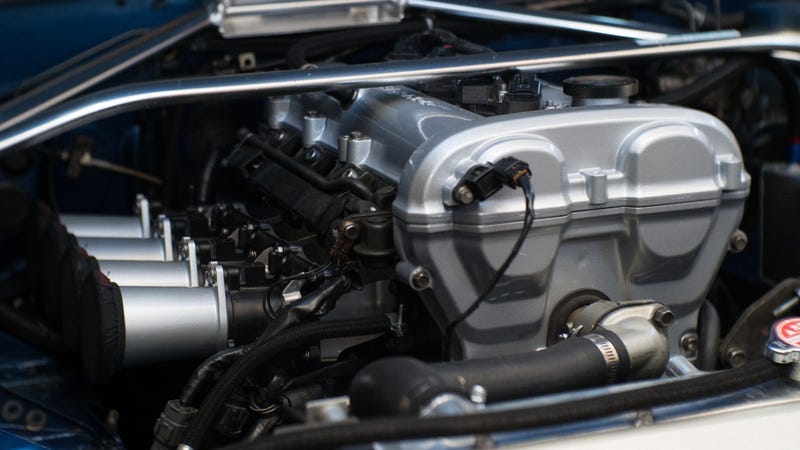 ITBs are just the business. Also I got in a new dipstick tube for the Miata and my dad will be out of town all week next week so I'll be able to use the garage. Hopefully I can get the turbo's oil drain done, suck a can of Seafoam through the intake and turbo in an attempt to clean out the oil residue, then do an ATF flush and oil change of the engine in the hopes that my collapsed hydraulic lifters will come back to life. If not, I'll order new lifters and try to install them next weekend and convince a buddy of mine to let me empty his garage of old 3000GT intercoolers and piping I can hopefully hack together into a FMIC setup for my car. At that point the Miata will be pretty much done, and should make a very healthy 170hp at the wheels, optimistically.
Also somebody buy me this wheel. Hnnnng. Wood shift knob, wheel, and leather handbrake handle coming eventually. Hoping also to re-upholster much of the interior with real fake saddle-brown leather. Going to go with a retro British roadster theme with the interior of the Miata, to help with my obsession with MGBs and Sprites and stuff.
That's really why I love the Miata. I absolutely adore European cars but I'm not terribly enthused at the idea of diagnosing problems on a 40 year old Austin-Healey. The NA Miata has the British roadster philosophy and what I believe is very euro styling (which is why I don't like the NB, NC, or ND. They're far too Japanese looking. Fiat 124 is the business, however) all wrapped up with fantastic Japanese engineering and reliability.