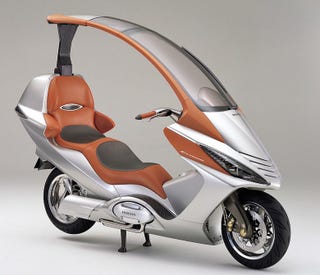 So I just stumbled across the Honda Elysium concept from the 2001 Tokyo Motor Show.
That's a 750 cc flat-4, through a CVT because scooter. And, someone at Honda was clearly inspired by the BMW C1 (as well as the Benelli Adiva mentioned in that article) although it doesn't appear to have the crash safety benefits of the C1's structure.
Unfortunately, this one was just a concept, probably not helped by the C1's failure in the market.