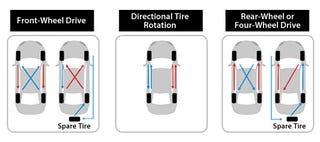 You may not know this, but your tires rotate as you drive. Seriously, it's been scientifically proven! Do you rotate your engine? Do you rotate your drivetrain? Do you rotate your fans, or window motors? Only if your car is British! For most people though, the answer is "No."
You know why we call them brake rotors? Because they rotate!
The only component that needs to be rotated is the spare tire, so take yours out and roll it around a couple miles. Make it a game! Once upon a time the term sticky tires meant an awesome afternoon activity with your family and friends.
Sticky Tires brings people together! In my neighborhood, you would work your butt off rotating tires for hundreds of miles in the hopes of competing with your school's junior varsity team. Back when I was a little weeble, I watched my older sister go to Nationals. She took home first place three years in a row for fastest 500 meters in the Industrial Agrerian Rotation class (super-heavyweight).
All around the world children used to dream of representing their country at the Olympics. Not even injuries like Rotator's Scuff could stop great sportsmen like Howie Chin from a podium finish.
Now we have gotten so lazy that manufactures stopped offering the spare tire! That was the sport part in Sports Utility Vehicle. You used to wear your spare tire on the back of your SUV as a sign of your skill! Now we wear them around our waists and have an industry of people that say they are rotating your tires but don't even touch the only tire that doesn't have self-rotation technology standard! In fact, some of these people have the audacity to flip flop the wheels on your car and call that a tire rotation! Unbelievable!!!
Stop this scam and roll a spare!