I LOL'd when I saw this on the news the other night. You rowdy Canadians!

From our local police chief: "treat our country with respect".

http://www.kpax.com/Clip/11634531/…
Copied from Wikipedia:

Activities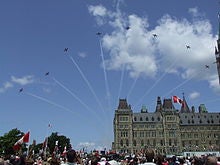 The Snowbirds on Canada Day celebrations in Ottawa
Most communities across the country will host organized celebrations for Canada Day, usually outdoor public events, such as parades, carnivals, festivals, barbecues, air and maritime shows, fireworks, and free musical concerts,[14] as well as citizenship ceremonies for new citizens.[15][16] There is no standard mode of celebration for Canada Day; professor of International Relations at the University of Oxford Jennifer Welsh said of this: "Canada Day, like the country, is endlessly decentralized. There doesn't seem to be a central recipe for how to celebrate it—chalk it up to the nature of the federation."[17] However, the locus of the celebrations is the national capital, Ottawa, Ontario, where large concerts and cultural displays are held on Parliament Hill, with the governor general and prime minister typically officiating, though the monarch or another member of the Royal Family may also attend or take the governor general's place.[n 3] Smaller events are mounted in other parks around the city and in Gatineau, Quebec.