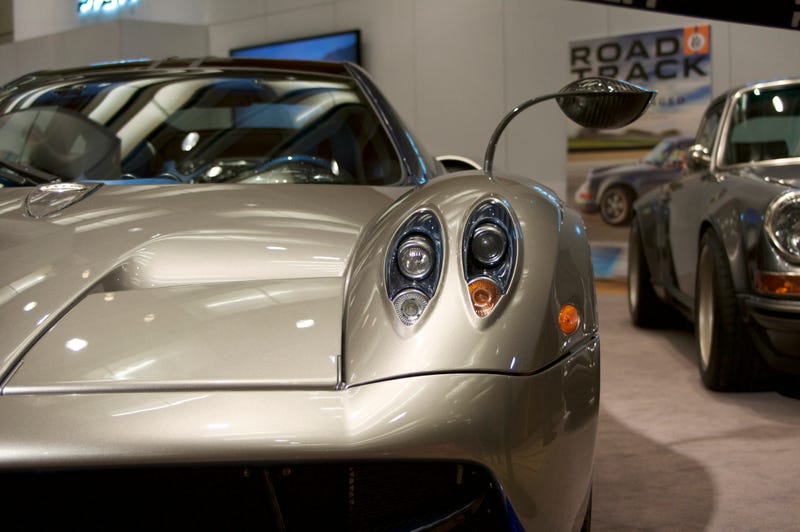 Full manual photography is hard (, yo!).

It forces you to take more time to frame your shots, set the aperture, ISO, shutter speed, zoom and focus to get a good photo. My lack of experience meant I was often forgetting one or more of those settings when shooting and re-doing several shots (when I noticed). Autofocus and image stabilization have definitely spoiled me. It's a challenge but that's half the fun in photography with these old lenses.

This issue was exacerbated by the fact that I brought the wrong lens and should have used my 28mm f2.8. The 35-105mm f3.5 I brought seems like it would give me a good focal range to go from full car shots to detailed close ups.

In practice however, the fact that I'm using this 35mm film lens on a crop sensor meant I was working with an effective focal length of 52.5-157.5mm, which was too much zoom in a cramped auto show environment. When I wanted to shoot a car I had to be zoomed all the way out at the 35mm length and even then stand more than 3m (10') back from the subject to get the whole car in frame.

With a healthy crowd in attendance, this requirement made it difficult to keep people from walking through the shot. As I try not to impose on others I let this limit the number of cars I actually tried to get completely in frame and instead reverted to my usual game of sitting in all the things.

Speaking of which, 6'5" me fits in the back seat of a BMW i8... sort of. Getting in wasn't too bad but my exit was less than graceful, much to the amusement of spectators I'm sure.

Also, I fit in the new Miata. Being a lanky fucker, this is a pleasant surprise, especially considering I did not fit in the NC (knees pretty much stuck between the steering wheel and door/dash respectively on the left/right). I suspect I have Mazda's renewed focus on light weight to thank for this; what seem like more minimal doors and dash and thinner seats all afford space for the driver. Well played Mazda, well played, you may expect me for a test drive when the nice weather returns.

Now for some of what the 35-105mm is good for - detail shots.
This little excursion was actually on Wednesday but I didn't have the time to go through the photos and finish up my post until this morning.