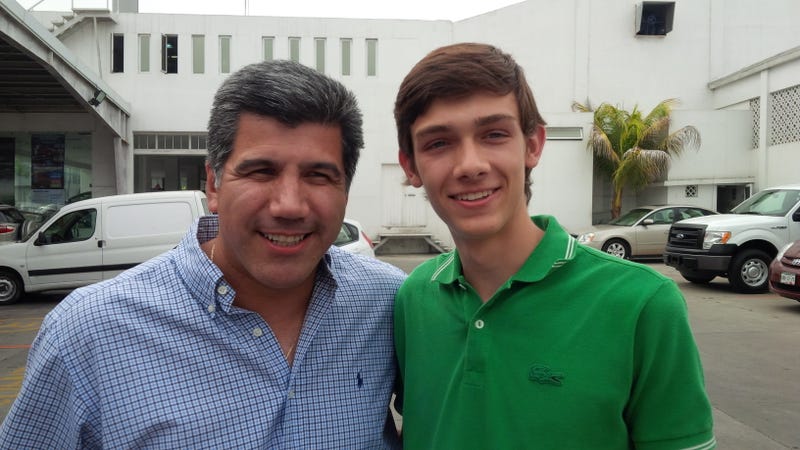 Now, we all know very famous Automotive Journalists from around the world: Clarkson, Harris, and many others. Mexico also has its own very important figure to the automotive world, and his name is Alfonso Chiquini. He is a 38-40 ish year old men that goes around the world, has a radio show, a TV show, and visits to a lot of places to eat free food and drive cars nice cars. Or in any Opponauts mind, heaven. He is the most famous, and well known journalist of the country, and today I had the fortune to meet him. He is absolutely awesome.
Yesterday, the Missed Opportunity:
It all started yesterday when I discovered that Alfonso was in town. My town. A town that anyone could cross on a bike in an afternoon, and not feel tired. It all happened when I was coming back from school. My father had gone for me since my car was at the mechanic to fix its handbrake (Update: Oliver can now hoon). It was around 3:20 and I reached the mechanic who had my car ready to go. I was feeling pretty good because I Oliver was finally getting that vital piece it needed. My father paid, and we were off our separate ways. I was heading home when I decided to put the Car Radio Show that goes on from 3:30 to 4 P.M. I turned it on and started hearing his voice saying info. about Focuses and some other Fords.
Then, as he said he was going to commercials, I heard these words: "Presenting Live at Ford Superservicio Tampico Avenida Hidalgo, for everyone living in Tampico Madero and Altamira. Visit us today at Ford." My mouth opened and I just could not believe it. I floored the damn 2 point slow and tried to get to that Ford dealership as quickly as I could. I got to the dealership and immediately started looking for a desk with 2 men behind some fuzzy microphones waiting for commercials to end. I saw nothing.
In the town where I live there is a second Ford dealership in the same street about 4 miles away, and just hypothesised in my brain that he would be on the other one. I accelerated again into traffic, hoping those 4 and a bit miles would be covered in less than 10 minutes. But these were 4 Mexican miles. Which means public transport, locals, and pedestrians don't want anyone getting to their destination on time. I screeched to a halt at the outer parking as the clock ticked 4:01. I heard through the Monsoon speakers at Alfonsos voice wrapping up the show but I didn't saw anyone inside. I was at the wrong Ford.
The ride home was quite sad, but all my regrets went away when I heard Alfonso say this wasn't the final goodbye to Tampico. He would be here one more day.
Today, I made a new Friend:
I knew Alfonso was going to be here, today, broadcasting from someplace in the city. Issue was, that place was unknown to me, and I kept thinking about it all through school since I was not going to loose another opportunity to meet him. I returned home from school at 3 P.M. and finished eating at 3:20. Same time I entered Oliver, tuned the radio, and went Journalist Hunting. I started leaving my closed neighbourhood as he said his location. What do you say? He was at the same Ford dealership I left so sadly from just the day before.
I accelerated, and wrung out some revs from the archaic 4 Cylinder, which brought adequate power to do some overtaking and delivered me at the same parking space I had gone from yesterday. I climbed out of the car and into the dealership feeling psyched, only to find the same scenario as yesterday. Absence. There wasn't a desk, or a Journalist, or even a damn client. To put it into perspective, the employees saw me come in as if I was entering a wedding dressed as a Ferret. I was just as confused as them.
I returned to my car turning on the radio to hear an explanation of what was going on. I stayed in the car the last 5 Minutes of the show where he did the same wrap up and gratitude to the Ford Dealership of Tampico who received him so kindly. As I heard the last words, I say the only 2 moving objects of the dealership returning to their car. Fortunately, of those 2 objects, there was the one I was most interested in. Alfonso Chiquini.
I got nervous, like seriously. I came out of my car too silently, which is bad since I didn't want him to think I was going to stab him or come up to scare him. "Alfonso!" I said as I was nearing him, "Can I take a Picture with you? I am a fan"
"Absolutley man, come on!" He said in a very reassuring friendly tone, and gave my phone to the man who was with him. He took 3 pictures, and Alfonso made absolutely sure that they were taken properly.
" Take a look at them, if they are bad, well take another photo."
I was starting to like him. Then, I told him:
"I am a big fan of the show, I just heard that you were in Tampico and I came here as fast as I could"
"Why didn't you come in before?" He responded
"I couldn't arrive on time, sorry, but I really wanted to." Damn was it hard to come up with that without mumbling.
"Well, I am very happy you came. I am going to return to your town for a Tennis tournament around October. Give yourself a look, and come meet me." He said.
"Absolutley, thank you a lot." I told him, really smiling by now.
"Hey, whats your name boy?"
"Vicente Esteve"
"Thats great, Ill see you later then."
"Thank you a lot, I will see you later"
And that was it. I returned to Oliver with my heart pounding, and merged into the street. I couldn't stop smiling, and I was amazed at how cool he actually was. He treated me, not as a boy, but as someone who he cares about. Then, all of a sudden, I was going my way on my lane when turn around my head to the right to see a 2007 Black Mercury Milan with a man grinning and making the "peace and love" gesture with his hands and waving good-bye. It was him. As he stormed off north I concluded that he was heading for the airport. And that last time we saw each other, was the Icing on the Epic Cake.