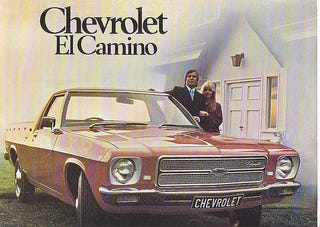 The Chevrolet El Camino. "But wait! Isn't that a Holden?" you may ask, and the answer is yes. This is not the El Camino North America got, instead it's a Holden Kingswood ute (or bakkie, as they are known in SA) with a chevy badge. You could also get it in sedan or wagon forms, as the Chevy Kommando.
It was later replaced by the Chevy Commodore, which is NOT a rebadged Holden, it was a rebadged Opel. The Holden was also a rebadge of the Opel version.

And then, just a few years ago, there was the also Holden-based Chevy Lumina based off the VF Commodore. Also was sold in the Middle East.
And, just to top things off, the Chevy Firenza. Which you could get with a V8 somehow shoehorned under the hood. Because fuck it.
Considering the Firenza (at least the Canadian market ones) had a tendency to catch fire, I doubt many Chevy Firenza owners had very long life expectancies.
In short: Chevrolet South Africa is fucking weird.