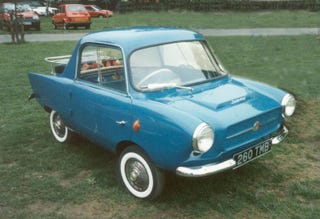 The golden age of the microcar, the years following WWII, provide me with endless fascination. Little cars were made in all corners of the world, and they all seem connected in some way. The auto industry today is like a web that covers the globe and the seeds of this globalization can be found in the microcar. Today's car, the adorable and adorably named Frisky, had its start in Egypt of all places, was designed in Italy, and produced in England and then Australia.
In the mid 1950's, the Flower brothers of Wolverhampton, England; Raymond, Neville and Derek, were working in Egypt and had the bright idea to build a car there. Raymond was a former racing driver and managing director of a company that distributed British cars in the country. He hired designer Gordon Bedson from Kieft Cars, who happened to be in Cairo on an extended layover, to pen a lightweight microcar to be built from fiberglass and produced under the Phoenix name. Bedson had worked in the airplane industry before he got into designing 500cc race cars. His most famous was a Formula 3 car with independent front suspension that was driven by Stirling Moss and set several track records. He and Flower also started developing a race car to be made alongside the micro. However, the Suez crisis and the overthrow of King Farouk damaged relations between Britain and Egypt, and plans for the little Phoenix were scuttled. 3 years later, however, the Phoenix almost rose from the ashes when new President Nasser requested a Frisky as a possible base for his plans for the Ramses car. A Frisky was sent to and tested in Cairo, but an NSU was eventually chosen as the underpinning for the Ramses.
Anyway, the Flower bros. moved back to England and in 1955 persuaded the Henry Meadows company, a small engine manufacturer where Bedson was now working, to build their car which would become something of a British icon.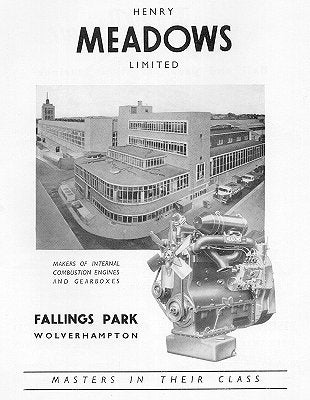 The original design was kind of frumpy, so Meadows went to Vignale and renowned Italian designer Michelotti to sex up the car. And he really knocked this one out of the park, at least on paper.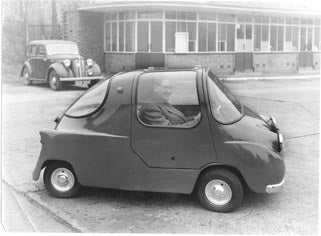 It was a pretty avant-garde design for the day. It looks kind of like a scaled down, spaced-out version of cars that would appear years later. It had radical gullwing doors and lots of curved glass and was completely impractical for something that was supposed to be at the bottom of the pricing scale. The prototype ended up looking much more squat in real life, but it was still unlike anything else out there.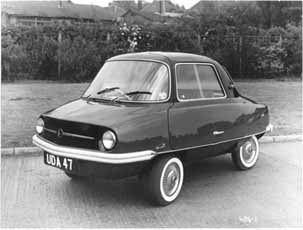 Bedson again designed the chassis which was made of tubular steel and featured a narrow rear track to eliminate the need for a differential. Like the race cars, it had independent front suspension and a live rear axle.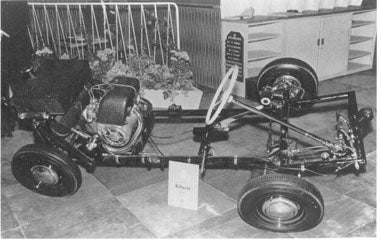 It debuted in 1956 to much acclaim. Everyone thought they were looking at the car of the future. But, build cost and the need for a convertible meant everything cool was dropped, and the car was completely redesigned. Michelotti's revised sketches are still pretty but, again, in real life, it kind of fell short in the sleek department.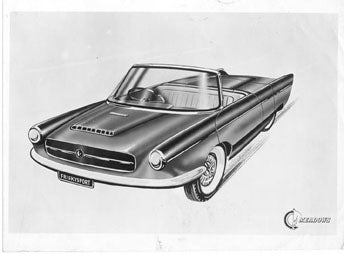 Regardless, it was darn cute with an earnest face that reflected its optimistic moniker. Bedson's chassis remained unchanged. It was fitted with a Villiers 250cc air-cooled two-stroke engine that was soon upgraded to a 325cc one after some cooling issues with the smaller motor.
It was ready for the public in just 9 months and was also well received although its conventionality was a disappointment compared to the earlier prototype. Still, Meadows was sure they had a success on their hands. The Villiers was extremely reliable and the car handled like a go-cart. Although, the suspension left something to be desired. Michelotti himself described riding in it as "like having your ass dragged along the ground while sitting on a shovel." The car was extensively tested for endurance. A modified Frisky (with rear duallys!) was driven by Gordon Bedson along the 831 mile Monte Carlo Rally route and did the run in a respectable 23.5 hours with little fuss.
Shell even touted the achievement in ads for their two-stroke oil.
Its 9.5 horsepower was competitive with other microcars, but the Frisky looked better and was lighter. The convertible "sports" version actually had a higher compression ratio and lower gear ratios to give it a, well, sportier feel which is pretty neat for a company that small at that time. Frisky was definitely trying to make a better microcar.
It was priced at a practically free £400, but, by the time production launched in late 1957, the bubblecar craze was dying down in England. People were buying Minis. Meadows was building 12 cars a week and sales were slow. They redesigned the dreadful suspension with a more conventional and comfortable McPherson strut setup, and found a new, more efficient way to produce the bodies. They also tried exporting Friskys and a few actually came to America, but this didn't really help matters so, they sold off Frisky and cut their losses in '59.
The factory remained in place, but Frisky was now controlled by the Marston company makers of caravans and seat covers. They had the smart idea of producing a 3-wheeled version powered by a 200cc Villiers, or 250cc Excelsior twin. Three wheeled cars had a much cheaper tax and could be driven with a motorcycle license in the U.K. The four wheeled cars were still offered, but the new Frisky "Family Three" kept the factory running. However, the cost of another retooling put Marston in debt and they, too, sold the company off after less than 2 years in charge.
It limped along under new management until 1964. An updated body design called the Prince was released, but only a handful were made, and by the end the Frisky company was only supplying spares to owners with few cars built after 1960.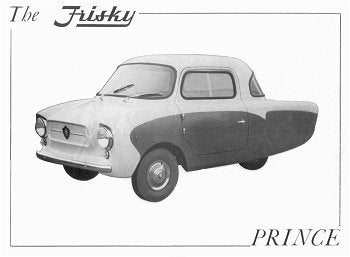 But, channeling the Phoenix once again, Frisky would have a new life on another continent. Back in 1958 Gordon Bedson had designed a Frisky based sports car he called the Sprint. It had a pretty radical torpedo like design that used the Frisky chassis, but with an all-new fully independent suspension.
Apparently it was a blast to drive with a 700cc Excelsior triple cylinder, but the old Frisky didn't have the finances to build it. Bedson had left the company after Meadows sold it and was hired by Lightburn in Adelaide, Australia. Lightburn made refrigerators as well as a fiberglass microcar that was a miserable failure called the Zeta.
Lightburn bought the rights to the Sprint in the hopes of making a sports car like the Goggo Dart. They had also acquired a load of leftover 500cc Messerschmitt Tiger motors from when that company went under that would power the car. Bedson loved Australia, but hated working for Lightburn. He had designed a good (albeit useless) car, but the company insisted on compromises to keep costs down and Gordon eventually quit after about a year. They did end up building between 25 and 30 Lightburn Zeta Sports in 1961, but for reasons unknown, they were warehoused for 3 years. In 1964 when they were finally put on sale, microcars, which never really had a place in Australia, were way out of fashion and it's unknown how many of those cars were sold.
They were advertised as being "designed by Michelotti," but it was actually all Gordon Bedson, much to his chagrin I'm sure. Curiously, they made one, awkward looking coupe I guess as a design study. This car now resides about an hour away from me and it's really cool and weird in person. The proportions are unlike anything else; practically flat except for the tumor-like canopy. Its irreplaceable motor was cannibalized to put back into a much more valuable Messerschmitt Tiger, so it may sit stationary forever.
Gordon Benson ended up staying in Australia where he opened a restaurant that catered to race car drivers and eventually got into building ultralight planes. The Zeta Sports was largely forgotten and less than 10 survive. Around 1500 original Friskys were produced and they have a strong following among microcar collectors even though only about 50 examples remain. Undiscovered ones do pop up now and again like this U.S. export one that lives with a different collector an hour away from me.
He's got it running and I have to say, Michelotti was exaggerating. It's more like a cushioned shovel. But, it does love to take corners at full speed, so Bedson did something right even if full speed in a Frisky is like idling in most cars.