The cars down for a small makeover so it's time for some aesthetic bits. More after the jump.
Enhance: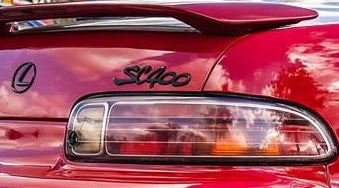 Bought the Supra font sc400 badge, figured it'll be one less reason to get pulled over(got a warning from chp about being debadged and I told him I'd put an sc400 badge back on)
96 taillights to replace my 98's (97-00 tailights on the red car up top) I've been rolling around with a cracked passenger lense for over a year so it's finally getting replaced.
Also doing a bunch of body work to the rear end while it's down, repairing the beat up rear bumper, making the fenders fit the wheels, removing antennae hole, etc.