Oppo, I'm tired. I got nagging health issues that none of my doctors have nailed down yet (not life threatening, but will dicuss at another time). Next week starts 6 straight work days of outpatient procedures with the last one the only one from keeping me from going to work. So don't worry about me. I'm just venting.
Worry about the victims of Hurricane Harvey and Irma [la Douce] and hope Hurricane Jose doesn't change course to hit any islands or the East Coast, instead.
Anyway, that's why I say fuck it.
I could use another old school laugh. Can't you as well, Oppo?
Lastly, CALLING ALL PHOTOSHOPPERS, VIDEO & GIF MAKERS:
PLEASE PHOTOSHOP SUNBATHING FERNANDO ALONSO
Over spinning go kart kid gif/video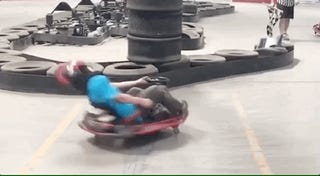 Until then, enjoy Alonso doing go-kart donuts
Also