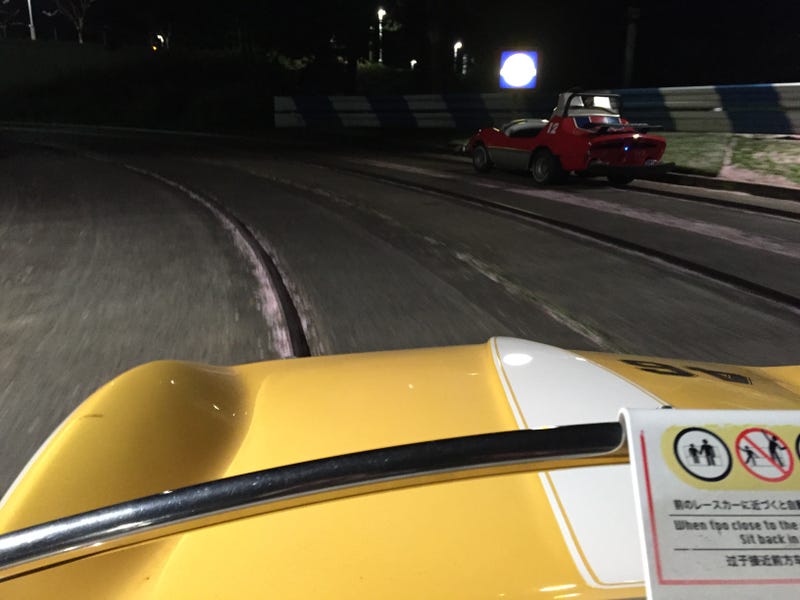 We wrapped up our time at Tokyo Disney Friday night. The kids did awesome. Here my son is piloting his racer around the Disney Speedway.
The parks, Magic Kingsom and Disney Sea, are fantastic. Great rides, amazingly clean and the staff was, to a person, phenomenal. They must get paid bonuses based on smiles and the amount of waving they do. Language was never a problem. Most spoke some English and those that were limited used hand gestures to get their point across. It rained on the day we were at Disney Sea, but panchos and a lets have fun attitude saved the day. You haven't lived until you've ridden a high speed, looping coaster in the driving rain.
If you get a chance visit Disney Sea. It is unique in the Disney world and has some very cool rides. Also, there is a full bar in the very cool Theodore Roosevelt Lounge. Good times there. The Magic Kingdom is largely a carbon copy of the California park, but improved and modernized.
I hold that the best time to be at a Disney park is in the dark. I was amazed at how dark they let some areas get. That helped emphasize the lights on the attractions. Also, crowds go way down after the Electric Light Parade. Our kids were troopers and we closed the parks down each night hopping from ride to ride.
We stayed at the Tokyo Bay Hilton, which is a partner hotel, while it was more expensive than what I would have wanted to spend, it was on par with staying on property at Disney World. Since the park tickets are about 60% the cost of the US parks we came out a bit ahead.
One thing that was odd though, there was very little Tokyo Disney branded merchandise. Just tins of candy, some Easter ornaments, and that was about it. No shirts and no Mickey ear hats were to be found on the park.