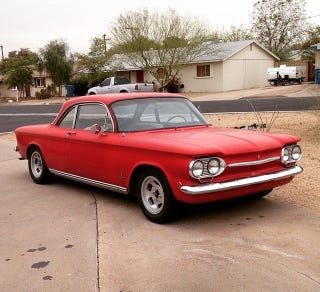 5. '63 Corvair Monza (four speed manual). I bought this car from a college student for pennies. It ran, so I tuned it up a bit, stripped it out, and drove it around Phoenix for a year and a half. The thing just ran. It didn't care if it was 115F outside, it just kept plugging along. I got a lot of thumbs up while driving her. I sold it to fund my current motorcycle project.

4. '91 Subaru Loyale with a 5 speed manual and 4wd. This was my first project car. I bought it from the original owner with 210k miles on it and some nasty valve lash noise for $800. I replaced all the front engine seals and the lash noise went away. Had fun with her out in the desert for a while and used her as a spare car for when friends came to town. I had way too many cars so I ended up selling her for $2,500. She was extremely clean and reliable. The interior was spotless.
3. 2011 Forester XT. The XT only came in a four speed auto at this point, but this car rode great and was still fun to drive. Did lots of camping trips in her and modified her a little bit. I still miss this car. Had the best resale of any car I've ever owned. Ended up selling her for the same price as the 335d I bought which had less miles.
2. I still own this one. She's a '66 GMC longbed (I put a '60 hood on her). The original 305 V6 was abandoned long ago for a crate 350 with a mild cam. She's running Hedman headers, Edelbrock intake, and a four barrel Edelbrock carb. She hauls shit and ass, and is fun to just cruise around in. She is currently on jack stands patiently waiting for me to install her new Hughs Performance transmission.
1. My beloved '08 WRX. This was the ugliest WRX ever made and the year before they gave it the power boost, but I loved her.
I swapped in a larger turbo, installed an aftermarket dowpipe, tuned her, upgraded a bunch of bushings and mounts, then cracked a piston. She was pretty quick and had the possibility of getting me in a lot of trouble.
This is the car was kind of like my automotive baptism. It revealed to me the extend of my abilities, opening up a whole new world of automotive possibilities. I sold her and bought an Abarth 500 which was really dumb.
Honorable Mention
'11 BMW 335d. This car had all the torques amd all the MPGs. It also had all the problems.
My wife's '13 X1. I really didn't want this car. It's a soccer mom BMW with the wrong number of cylinders. It's been the most reliable BMW I've owned and has been driven around the western US and forced to drive on trails no BMW should be on.
'83 BMW 325e. It had the wrong engine, but it was a five speed with a factory LSD. I bought it before the prices inflated for $1,200. Fixed it up, got it running reliably, then sold it. Dumb move.